Archive ESL Europe Europe Female Gaming
Female teams wanted... for our 5on5 ladders!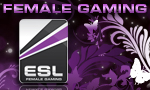 Strange things are happening in our beautiful female section: since more or less one year the female section of the Electronic Sports League offers the european female teams a 5on5 ladder in Counter-Strike 1.6 and Counter-Strike:Source, but if you look into the ladders they seam to be quiet empty.... girls, where are you?
This news has the task to remind you of our

Counter-Strike 1.6 and

Counter-Strike:Source 5on5 ladders where you can compete against other european female teams. Maybe some of you don't know that we have 5on5 ladders or maybe you just forgot that it exists. At the moment there are only 8 teams in the Counter-Strike:Source ladder and even only 6 teams in the Counter-Strike 1.6 ladder. Because of the great participation in our 5on5 cups we know that there are many 5on5 female teams outside there, so don't wait and join!






We hope to see your team soon in our ladder!

//your

Admin Team
Isa
, Tuesday, 22/02/11 07:35


Information:
info write comment not allowed