Archive ESL Europe Europe Female Gaming Counter-Strike
Winter Cup - Playoffs & Final Round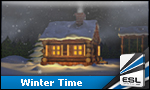 24 female teams signed up for our Winter Cup groupstage, but only 8 teams managed to reach the playoffs. The 8 best teams needed all their skill to compete in best-of-three mode against the opposing girls, we saw some nice and exciting matches but now it is time for the final round! Who will be the winner of this Winter Cup?
The participants
The following teams managed to reach the playoffs:
The final round
Match for 3rd place
Follow us
You want know about new cups, events e.g.? Join to our community on Facebook and Twitter.

Facebook Female Gaming

Twitter FemaleGamingEU
We hope you enjoyed our Winter Cup and that you had a lot of fun! Thank you for participating and supporting the female section of the Eletronic Sports League.
//your

Admin Team
Isa
, Friday, 11/02/11 05:31


Information:
info write comment not allowed