Second Starcraft II Female Cup is over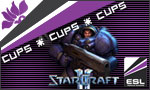 Sunday evening, well, for some participants it was early in the morning, our second Female Starcraft 2 Cup took place. 31 girls from many different countries participated. It is unbelievable! We had so much fun and of course now it's time to present you the winners.
Sc2goesFemale #1 - Winners
Sc2goesFemale #2 - Winners
could not load match with id #20325960
Relive the final
Replays are included in our awesome replaypack!
Famous MTV Taiwan VJ Linda Liao took an interest in the Cup
Linda "pikachu" Liao is not only a
Diamond rank #1 player in Asia
, she is also an actress, a singer and VJ for MTV in Taiwan. When she heared of this cup, she bought an EU bnet account and signed up at ESL. For this cup you need to be an EU user but don't worry.
The National ESL
will be hosting female cups in the future to give all ladies with US accounts the chance to play in such a friendly and thrilling female cup as well.
Linda promised to come back and play in this cup again. It is also likely that
GLHF.tv
will be casting the next cup. Thanks to Meeran, we had a
great post on Team Liquid
, about
40.000 people
were following this cup in the thread there. Because of this thread, many girls signed up at ESL and participated in this cup. If you watch replays from the replaypack, you will realize immediately that many of these girls really got game! Thank you girls, you were amazing! And a little extra on top: Lindas participation in this cup made it into Taiwan TV:
Headline: Showtime Cinemas' young heiress Linda takes part in Online Gaming League and becomes Champion.

Female News Caster: From the entertainment industry comes a girl that makes Taiwan proud. She is the female celebrity Linda. Many would know that she comes from a wealthy family, daughter to the owner of ShowTime Cinemas. Other than her singing and acting career, not many would know that she is also a professional gamer. She has already been playing games for the past 10 years. In the early morning of 2am, she took part in an online international cup for female gamers which lasted for 4 hours and she defeated 30 other gamers around the world to win the title of champion. On behalf of her, the official website has put up the flag of Taiwan and her fans give her thumbs up and praise her for being the pride of Taiwanese eSports.

Linda (00: 30): There's a bit of worry of losing the game. (exclaims ahh:) It's beginning to countdown!
Female Narrator: Linda, fully focused on the game has no moments to talk, she has her eyes fixed onto the monitor, and she is not even blinking. She just came back from her work and started up her game immediately.

Linda (00: 45): I'm currently playing against Zerg.
Female Narrator: Do not look lightly at her, as she just took down 30 other gamers at midnight on November 1st, and won the title of ESL SC2 female international champion for this game.

Linda: (00: 57): I've not get the chance to close my eyes for the past 48 hours. There is actually still 2 hours before work starts again after the cup, but I was too excited, and my hands were trembling from the excitement till the point that there was no blood flowing through my hands.
Female Narrator: On the online tournament format at the 1st position is the flag of Chinese Taipei and the game nickname that Linda is using. At the same time on Facebook, many comments were dedicated to her efforts in playing in this cup to represent Taiwan. Linda says that she had spent the past four hours playing against the 30 other gamers worldwide, and has spent 3 months of practicing against 3 million other users online. Her best records are playing consecutively for 4 days of games while not sleeping, and for winning this female division of the online cup, she has been given the title of 'Gaming Queen' in Taiwan.

The organisers has regulated that the microphone must be on at all times, and when they talk to me 'hello hello', I must reply back to them 'Hi, I'm here, yes yes'. When they are not talking to me, the organisers will be speaking in their German language or English. I was constantly stretching my hands whenever I got the chance during the cup as it was very intense. *Linda shakes her hands*

Female Narrator: Linda has recently taken a fellow entertainment industry colleague, Bai XinHui as student, and both of them often play games together online. Linda states that after winning this cup, she aims to strive to become the next online gaming champion and become the pride of Taiwan online
Let's start a new Cup!
The next date will be November 14th 2010. Details will be posted in this section soon. If you would like to know more about these cups, join our group on facebook:
If anyone of you is writing about the matches or their experience at this cup, we are willing to publish your short articles here.
For
general
questions you can ask us in IRC
#esl.female
(Quakenet).
//your SC2

Admin Team
naddL
, Tuesday, 09/11/10 11:02


Information:
info write comment not allowed