Female LoL Cups Ladies<3LoL #81 (EU-WEST)
Important Notice cup81 l LoL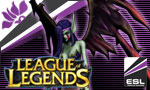 After one month we have teams but the admin, who could handle this cup, can't do it by personal things. We tried to find some admin who can help us but it isn't possible, we announce this now because we waited an answer until today.
Don't check-in or try to join because this cup is canceled, we will archive this cup tomorrow and
we will create the next cups this Tuesday
. If you have some question you can send us a ticket on our section and we will answer you soon as possible.
Our apologies about this incident,
we will back in September.
Possible Calendar Cups:

07/09/2014
- Cup82 EAST&NORDIC

14/09/2014
- Cup83 EUWEST

21/09/2014
- Cup84 EUWEST

28/09/2014
- Cup85 EUWEST
Have a good day,

No comments yet.

Information:
info write comment not allowed