Archive ESL Europe Europe Enemy Territory
EMS Info & Details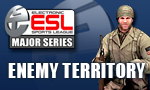 As mentioned in the previous newspost, here you will find all other important facts and details besides the Qualification Structure: Schedule, Rules, Maps, Config and of course the Prizemoney!
Read on for more information on these topics!
Format: 6on6
Action
Date
Sign Up Open:
Sign Up Closed:
Qualifier Start:
Qualifier End:
Groupstage Start:
Groupstage End:
Final Stage Start:
Final Stage End:
Qualification Details
Now
29th March
30th March
End of April
Directly after the Qualifiers
May
Directly after the Groupstage
June
Here!
Sign Up
| | |
| --- | --- |
| | Enemy Territory ESL Major Series Season IV |
| 1st | 250 €uro |
| 2nd | 150 €uro |
| 3rd | 100 €uro |
| | |
ESL Hall Of Fame
We will provide an extensive Coverage for the major event of the year as well as our partners including Reviews, Previews and Interviews. At the moment we are searching for some official Newsposters. If you want to become a Newsposter, click here. If you want to add ETTV Coverage on your own, feel free to ask an Admin to arrange the necessary steps.
&nbsp
&nbsp
Do you want to become a Partner too? Send in a Request!
&nbsp &nbsp
If you have Problems with the Sign Up or Registering to
ESL, feel free to contact an Admin via IRC: #esl.et @quakenet or have a look into the Starter Guid. If there should be any problems with the matches or your opponent or to determine your team's nationality, feel free to contact us via IRC or the Support Ticket.
Good Luck to all participating Teams and have much of Fun!
//Your

Admin Team
Sn4kE
, Wednesday, 18/03/09 14:36


Information:
info write comment not allowed