Archive ESL Europe Europe Enemy Territory
Storm is over! - ESL Decerto Storm Assault completed!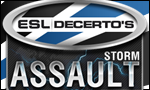 The Storm is over! But instead of chaos and disorder a winning team arose from the storm. The best 16 Enemy Territory teams out there signed up and fought for the prizes sponsored by Spire Corp in cooperation with Team Decerto.
The Grand Final
The last and decisive match was indeed a Grand Final. It took
seven
maps and nearly
four hours
to find the winner. No gifts were given away but both teams show off what they've got. After winning the first match 5:3

Team Decerto
was halfway there at the big success. And they were even closer to that goal after winning the first map of the last and decisive match. But

kings.et
started a comeback and took home the next two maps what meant the overall win in the end. Let us have a look at some details of the match.

Bracket
Team Statements
saKen - Team Decerto (lineup)
All in all it was a nice tournament, we´re a little disappointed with second place seeing how close we got to winning it in the grand final. It was a great game though and I hope the spectators enjoyed it. Congratulations to kingz. Thanks to Team Decerto, ESL and Spire Corp for providing ET with another great online tournament.
:player - Kings.et (lineup)
We tried our best but we were not able to get a statement by the tournament winner. Every contact attempt was in vain due to no reply neither by email neither by IRC nor via crossfire - sorry for that but it was not our fail.
Finally the guy who made this tournament possible will have a statement:
Marck Hernandez - Manager Team Decerto
We at Team Decerto are extremely proud of our cooperation with ESL and its Enemy Territory section, we have had a very positive experience from it and we certainly appreciate their kind support to our projects. We also love the great support we have been given by all the ET scene and the great teams that are part of it. Without their kind support this kind of events wouldn't be possible. Team Decerto is also proud of being sponsored by great companies such as Spire, Ozone Gaming and Hiperz, which strongly believe in this projects and help us make them happen. We hope to be able to provide the ET scene with more events in the future and keep the good relationship we have with ESL for a very long time. I personally would like to give a big thank you to Sn4kE, who have been working very hard for the one community he loves, and to make this and our previous events a huge success


The 2nd tournament in cooperation with Team Decerto has come to its end and we want to thank Team Decerto as well as Spire Corp for giving a prize featured tournament to the community. It was a great tournament with a thrilling and befitting grand final between Enemy Territory's best teams! Congratulations to the winners and many thanks to all participating teams!
More about the tournament
All possible thanks to our partners!
Good Luck to all teams!
//Your

Admin Team
Sn4kE
, Sunday, 09/12/12 09:50

No comments yet.

Information:
info write comment not allowed