ESL Storm Assault - 4 teams left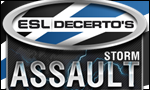 The Adroits Lan in Enschede is finished and the ESL Strom Assault is back on track.Who will be able to carry home the decisive wins?
Latest results
The lower bracket half finals were already played right after the LAN last week. Against all odds

to Make odds even.ET
was able to take home a 4:0 victory over the favoured guys from

colt45
while

devilry
was also able to gain into the next round. So we will have a pure Polish half final! The teams from the upper bracket still need to recover from the LAN. The upper bracket final was not scheduled yet. We aim for Monday or Tuesday so stay tuned!
Lower Bracket
2440368 - to Make odds even.ET (lineup) Our last game against one of the favorites for the final victory in ESL Storm Assault, colt45, went quite easy. We managed to set a fullhold on our home map radar what gave us an additional power to win the whole game. I don't play anymore with my boys, but I am still around and I know that they had been really motivated to win this game after they had lost to devilry in EuroCup a day earlier. What a coincidence that we are going to face them again in the next round of Storm Assault. It will be a great opportunity for us to show everyone that our last game was just a little accident and we are still the best team in our country. It's definitely time for revenge. It is also a very essential game as for a final standings in the whole cup because the winner of this game is going to be in top3 already. Good luck both teams, but especially for my buddies.

guffy - devilry (lineup)
Four teams left and we are very happy that we are one of them. However, we are not satisfied the style we get into top 4. Sorry German friends but I have to blame you in public for this forfeit. Anyway next game against to make odds even won't be the same as EC group stage game where we won 4-2. Our Team-Poland were irritated, too bad that Polish star greziek couldn't play but maybe now he will get his chance to prove his talent. We will do our best and hope we can win it second time in a row. Good luck and see you on the battlefield


Community Predictions
Who else than fellow countrymen knows best? We asked some PL insiders!
Robaciek
Definitely a game between 2 best polish teams atm and it will probably be a close one again. I'd say 4:2 devilry, simply because they put more heart into the game and have nice teamplay.

l4z:
Hmm, This gonna be good match between two of the best polish teams. My prediction is 4:2 for no respect. Most depends which team gonna prac more for this game. I wish good luck and have fun for both teams

nightmare:
Who will win? tmoe no respect! With dialer, lesti, frag stealer and lukey they have the better line up. Actually this is team Poland 3on3. Player to watch: Frag Stealer!


More about the tournament
All possible thanks to our partners!
Good Luck to all teams!
//Your

Admin Team
Sn4kE
, Saturday, 27/10/12 04:42


Information:
info write comment not allowed