ESL Storm Assault - last eight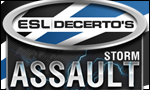 We are back on schedule! Half of the teams are gone, only eight left and Sunday night we will reduce the number of teams by two! The lower bracket round three takes place. Check out the schedule:
Lower Bracket round III
5106151 - bSTURZ (lineup)
after 2 forfeit wins in LB we have to face devilry now. Since we didnt prac for a long time because of some problem in our team this gona be a interesting match. Player to watch for headshots only mag from devilry or fuchs from bsturz. May the best team win

guffy - devilry (lineup)
We are happy that we are one of the eight teams still staying on the battlefield. Our main purpose was to get into the group of 6 best teams, show to others good sides of our team gamestyle. But now we have to face bSTURZ, team with skilled and experienced players. It will be extremely hard to beat them, although we belive we can make it. I expect to 4-2 score for us with all the respect for our oponent. Good luck and see you on the server.


3445808 - Pharaons.et (lineup)
TBA

2440368 - to Make odds even.ET (lineup)
We haven't really played much lately, I guess the last "prac" my boys played was our last official in ESL against TAG which went quite good as for our current shape. I didn't touch ET for like 2 weeks, so I don't know whether I'm going to play or not. I'm not sure about our exact roster too because I haven't talked with everyone yet. On paper we seem to be a stronger team, we thought the same when we were losing to Lost Soldiers :D, so you never know what is going to happen! I guess it's going to be a nice war and at the end of the day we will be happy with our victory.


Upper Bracket
Only one match is missing in the upper bracket before we will know the first grand final participant.

Team Decerto ET
and

kings.et
will battle for this slot! We will inform you as soon as we know when the match takes place. Stay tuned!
More about the tournament
All possible thanks to our partners!
Good Luck to all teams!
//Your

Admin Team
Sn4kE
, Saturday, 13/10/12 06:37

No comments yet.

Information:
info write comment not allowed