Archive ESL Europe Europe Enemy Territory
Evolution Challenge - lower bracket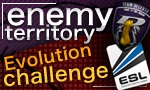 What is going on in the Evolution Challenge? Five teams still in but three on pause. Why? The answer is easy: A single match claims all attention! So let us have an eye on that match and the rest of the entire tournament.
Due to some delays in the lower bracket round two the tournament has reached a status where the proceeding is dependent on a single match. Both teams agreed to play on Monday. So this single match will have our full attention!
Recent results
We know the first finalist!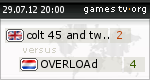 Team Decerto ET
managed to take home the victory against

colt45
in a close three-mapper. Both teams can take a little break now and prepare for their last and decisive matches. The guys from

mPG
are waiting for their next opponent which will be the winner of the already mentioned high attention match!
The match we are all waiting for
abortji - Jungle Brothers (lineup)
It's been hard to get our lineup together and to get some games going. We still haven't practiced at all. Even though we didn't, some of us were disappointed with our earlier results. We will not underestimate them as a team, but judging from their players as individuals, we definitely should win this game without too much trouble.

Docrom - sticked.et (lineup)
Jungle Bothers looks very strong so we ain't really confident but we'll do our best to win atleast a round or a map. Anyway we played well during the whole tournament so we ain't that disapointed about leaving the tournament that far
More Information on the tournament
Prizes
The prizes are sponsored by
Ozone gaming gear
because it is all about evolution!

6x Ozone T-shirts

6x LAN bags with Ozone branding

6x wristbands with Ozone branding

6x Groundlevel Mousepads
The prizes are sponsored by Ozone gaming gear. The Electronic Sports League is not responsible for the prizes. Shipping by Ozone gaming Gear!
All possible thanks to our partners!
Good Luck to all teams!
//Your

Admin Team
Sn4kE
, Saturday, 04/08/12 04:46

No comments yet.

Information:
info write comment not allowed