Archive ESL Europe Europe Enemy Territory
Summer Series Kick Off!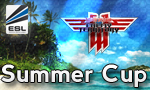 Swaps are over and now we can finally announce that Summer Series are starting today! Cup is formed into double brackets (lower and upper brackets), so if you do not win first then you might second time and advance forward to the top. Check the rest of the news for rules, schedules and all important links, which might help you over the cup.

Some couldn't swap the cups because there was no team to swap with, so next time you need to rate your team like we have wrote in signup news to avoid that issues.
Rule excerpt
• 1 Match per Week, Matchweek starts each Monday
• Best of three (2 Maps and Decider if needed)
• If the teams cannot agree to play: Check Schedules and Maps
• Free Map Choice, Decider by Elimination after Cointoss
• Lower Bracket Winner must beat the Upper Bracket Winner twice
• There are NO Wildcard during the whole Tournament!

Full rules
Schedules
If you cannot agree to play the match in the given matchweek, the forced date becomes mandatory. All matches are set to status challenge, which means that you are able to schedule a date and change map. You can move your match inside the matchweek or to forced date. You can find more informations below.
Default Dates
1on1

3on3

6on6

Sunday 19.00 CET

Sunday 20.00 CET

Sunday 21.00 CET
IF the match is not played, a protest will be opened to find a new date or a default winner.
IF you agree with your opponent to play it in the
next
matchweek, you can do this before
Tuesday
, or on
Tuesday
.
In order to avoid a default loss when you cannot agree/contact your opponent, make match comments and inform an admin in time.
Which Admins are in taking care for my cup?
All Admins


Master League Admin: FoaMeA
(Co-)Master League Admin: Sn4kE
Advanced League Admin: Kwiz
League Admins: 5842780 , baq , DeVito
Trial League Admins: 5427786 , 4650079 , Docrom



If there are questions feel free to contact us via Support Ticket or via IRC #esl.et @ quakenet




Good Luck to all teams and players!
All possible thanks to our partners!
Kwiz
, Monday, 30/07/12 11:50

No comments yet.

Information:
info write comment not allowed