Spring Series Kick Off!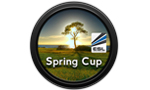 Sign ups are over as well as the map votings! It is time to get the cups started! The first matchweek starts today, you have seven days to complete the first round. Do not forget: There is a lower bracket too!
Spring Series
1on1 Cups || 3on3 Cups || 6on6 Cups
Poll Results
Again we asked all players and teams which map shall complete the respective map pool for
3on3
and
6on6
. Here are the results:
3on3 Frostbite (37%)
6on6 missile (36%)
Rule excerpt
• 1 Match per Week, Matchweek starts each Monday
• Best of three (2 Maps and Decider if needed)
• If the teams cannot agree to play: Check Schedules and Maps
• Free Map Choice, Decider by Elimination after Cointoss
• Lower Bracket Winner must beat the Upper Bracket Winner twice
• There are NO Wildcard during the whole Tournament!

full rules
Good Luck to all teams and players! If there are questions feel free to contact us via
Support Ticket
or via IRC
#esl.et
@ quakenet.
All possible thanks to our partners!
Sn4kE
, Monday, 07/05/12 16:09


Information:
info write comment not allowed