EMS VII ET: 3rd Matchweek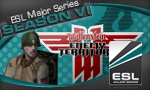 The last official matchweek is about to finish today! Nevertheless we have several wildcarded matches still pending. These matches will be played during the back up week starting tomorrow. After that additional week we will know which teams will join the play offs!
Newsflash
Maybe you have notice that some matches from
Group A
disappeared.
The team

HIGHBOT 2k10
was removed due to reaching
3 Major Penalties
. The reasons can be found on their
teamsheet
. Furthermore we ask all teams to stick to the
rules!
Penaties
do affect
the prizemoney!
First matches of Playday 3
Last few days weren't that good for us as we expected them to be but after a little downfall there is time for improvement.

Giants formerely known as IDK is a worthy opponent and we will have to give our best to win this game. This will be teamwork vs teamwork game. I say 4-2 for us.

Aero 3611031
This is a whole different team than

:e-wave, which will be harder for us i guess. The Belgians in this team play together for some time now which again will give them a win on one of the maps tonight. But the win will be again ours!! 4-2 i'd say, but we might take a 4-0 home if

clown is going to use his tricksshots with riflenade tonight,

mant and other ETTV viewers should be speccing him tonight!

Giants 2936077
---
TBA TBA TBA TBA TBA TBA TBA TBA TBA TBA TBA TBA TBA

e-wave 2003264

ewave has added and removed some players. I have no idea how their new line up is playing atm, never pracced against them so it will be hard to judge them. I guess they might be able to take a map, but the win will be ours! 4-2

Giants 2936077
---
TBA TBA TBA TBA TBA TBA TBA TBA TBA TBA TBA

Dignitas 609400
TBA TBA TBA TBA TBA TBA TBA TBA TBA TBA TBA TBA TBA TBA TBA TBA

ESLW dialer
---

Mvp are playing very well. They have aim and teamplay. It will be hard for us, but I still hope a 4-2 win for overload.

ovr 2056721
We feel quite confident before tonight's game. However, we know that overload ain't a weak team and we won't underestimate them. We haven't played delivery much that's why I think this map could go either way. I think we should take it either 4:0 or 4:2.

mvp 2988079
---
We will try to win atleast a map.

1stCav guffy
Wildcarded matches
All other pending matches are the last group stage matches and also wildcarded:
Good Luck and Have fun!
//Your

Admin Team
Sn4kE
, Sunday, 31/10/10 06:29

No comments yet.

Information:
info write comment not allowed