ET 6on6 Ladder
5on5 ET Ladder opened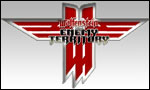 We hereby announce the official opening of the ESL EU ET 5on5 Ladder. The new format will be tested for two or three months and if we reach a good base activity we will keep it.
The ladder is supposed to support the actual
5on5 movement
within the competetive Enemy Territory community. It is also aimed to support teams competing at the upcoming
Crossfire Intel Challenge 7
in early march. We though welcome any team that wants to play in our ladder and hope for a great feedback and alot of great matches!
!! SIGNUP NOW !!
Ladder details
Maplist
braundorf_b4, adlernest, sp_delivery_te, frostbite,
supply, sw_goldrush_te, radar
Match Module
Best of three (third map if both agree)
GUIDS needed
Minimum 5 players with entered PBGUIDs
Ladder Info
General Infos
Complete Ruleset
All rules
!! SIGNUP NOW !!
Most Matches Competition
As every month there will be the MMC. The most active team will win
Premium Accounts
for their players. To support the newly created ladder the MMC of January will be held in the new
5on5 Ladder
.
More information can be found in the according
newspost
Auto Challenger
We will use the
Auto-Challenger
in this new ladder to support every team to find a good opponent. The Auto-Challenger searches for opponents once a week for the day that was entered in the settings. The match is automatically generated and is obligatory. It may, however, be postponed, if both parties agree.
The matches are always generated seven days in advance, in the night after the current days matches have been played. The fixtures for a Thursday would e.g. be generated a week in advance in the night between Thursday and Friday.
More information can be found in the according
FAQ - Auto-Challenger
. E.g. for "I dont want to play next week?"
Instant & Soft Challenger
If your team wants to play an instant match on short notice the
Instant Challenger
is the right tool for you. By this you search for an appropriate opponent, which is also on the lookout for an instant match. In the first weeks this might not be used alot as most teams must still join, but do not forget to check it out later!
If you did not play a match within the ladder for more than 7 days or have no open matches the
Soft Challenger
will have a match generated for you automatically. These matches are only suggestions and can be cancelled without penalty points.
We wish all teams good luck and fun!
If you have any problems feel free to write in a
Support Ticket
or contact the admins in
#esl.et
on
Quakenet
.
eiM
, Friday, 01/01/10 05:03


Information:
info write comment not allowed