EMS V ET: Match Week II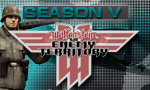 The 2nd matchweek is coming to its end while there are still some pending matches of matchweek one. Several teams had problems to arrange their tight match schedule handling dates for several competitions. That is why the regular schedule was a bit mixed up too. Some matches of week two have been played last week and the matches of matchweek one will be played this week. So to be up to date what is coming on today and during the next week, read on!
Information:
For the fans of the match

Team Guarana
vs.

sleeperZ
: Match was wildcarded and is not arranged yet as well as the match

ESL Winners
vs.

extasix Gaming
:
filuS
In the last few weeks a lot of changes needed to be done because of lack of motivation/time of some players and our last match against reveal showed us that we have to pracc a lot to be back in shape we were month ago. But I guess our chances against xt6 are still more than good, my prediction is 4-2 for us.
Info:
Maybe wildcarded by

xt6, stay tuned!
---
2113299
We have not played for some time now, but I think we'll still win. I know pstarZ and they won't give us an easy game.
3199648
I think if we can play our best game we can win. But bossid is a strong team and it'll be a nice match. I think it's gonna be close 4-2, but dno for who!
---
1625720
I think it's gonna be a nice game, and I predict 4-0 score for us. We are strong now when olBaa got his new pc and is ready to pwn.
2055401
Dickheads is a very strong team.. and we havent been able to beat them in pracc yet. But we will do our best tonight, and ofc pown them as those dickheads they are! cu cc7
---
eiM
We perform unexpectedly good in recent matches with our latest addition of Smurftang. Though we are the clear underdogs in this one and we will do our best to take the victory home.
flyxx
We were praccing very hard for this match, I hope that we will be able to use maximum of our potential. IronFist will strike again tonight!
---
2555354
I'm very confident about my team at the moment. We have practised more than anyone else during the last 3 months and we are truly on top our of game right now. so 4-0 for us
Live Broadcastings: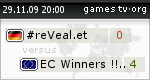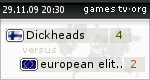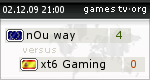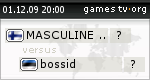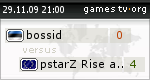 Partners for Coverage and more
Without any doubts the upcoming week will be an exciting one! Good Luck!
//Your

Admin Team
Sn4kE
, Sunday, 29/11/09 09:02

No comments yet.

Information:
info write comment not allowed