Archive ESL Europe Europe RaidCall EMS One Summer 2013 Dota 2
RaidCall EMS One Dota 2 is back with Cup #1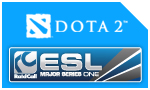 Summer is coming and so is the Summer 2013 Season of our Dota 2 RaidCall EMS One. A few weeks after Natus Vincere won at the Spring 2013 Finals, we are back with a new season. In the first cup the best eight teams from the previous season will face 16 A-Series teams to fight for important points to qualify for group stage. ESL TV together with joinDOTA will provide coverage to make sure you don't miss anything of the action.
RaidCall EMS One live on ESL TV
Every Monday and Tuesday ESL TV will show you the best matches live from the RaidCall EMS One cups. Tune in to the shows starting at 19:00 on both days. They will be presented by
Toby 'TobiWan' Dawson
from our broadcasting partner joinDOTA!
The Schedule (Bracket):

Monday, 19:00 CET

Round 1

Monday, 20:00 CET

Round 2

Monday, 21:00 CET

Round 3

Tuesday, 19:00 CET

Semi Final #1

Tuesday, 20:00 CET

Semi Final #2

Tuesday, 21:00 CET

Grand Final
The adjusted seeding procedure
Our seeding system has been slightly adjusted to make sure that teams that perform well receive an appropriate seeding. Instead of making our last season's finalists skip the first round all the time, we will from now on base our seeding on our overall ranking.
Therefore, the quarter finalists of our first cup will be the ones to receive first-round freewins in the second cup. the best 8 teams from Cup #1 will be seeded first and get the free wins in the first round. The last season's finalists will still have a spot in all four cups for sure, not having to participate in the A-Series.
Step up and face the pros!
In order to take part your team needs to be a member of the A-Series. Signing up for the cup does not guarantee you a spot. Only the best 16 teams - more if any pro teams skip the cup - will be able to compete with the pro teams. The participating teams will be added to the cup on Monday by 18:00 CET.
About the sign up for RaidCall EMS One Cup #1

All teams from the A-Series can sign up

Slots will be given out based on ranking

At least the best 16 teams from the A-Series will be included
RaidCall EMS One Summer 2013 Prize Money
| Ranking | Cup #1 - #4 | | DOTA2 Finals |
| --- | --- | --- | --- |
| 1st Place | 600$ | | 12,000$ |
| 2nd Place | 200$ | | 7,000$ |
| 3rd Place | 100$ | | 4,000$ |
| 4th Place | 100$ | | 4,000$ |
| 5-8th Place | | | 2,000$ |
Good luck and have fun!
otacon
, Friday, 17/05/13 12:21


Information:
info write comment not allowed