Dota 2 starts on Feb. 11th - How to Qualify?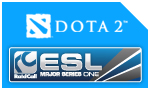 The RaidCall EMS One consists of four seasons every year. Each season offers a prize pot of 39,000$ and is divided into three stages: 4 Cups, Group Stage and Live Event Finals. While some of the cup participants are seeded, everybody has the chance to qualify for a cup by playing in the Dota 2 A-Series.
For every cup the top 16 teams of the current
A-Series
will join eight finalists of the previous Dota 2 RaidCall EMS One Season. The higher a team places, the more points it earns in the overall cup ranking. Said ranking determines the 16 participants of a groupstage, which will reduce the participants to eight teams towards the Live Event Finals.
Also, we have listened to the feedback of our American fans. We came up with the idea to adjust our model to offer the American teams a way to take part as well. The focus of our competition will remain in Europe though, but we will present a more sophisticated model to include teams from other continents for future seasons. Teams from Europe and North America will compete with each other in the A-Series. However, teams from outside of Europe are not eligible for the cups. Instead, the highest ranked North American teams on March 11th qualify to the group stage where they compete with Europe's elite.
(click to enlarge)
RaidCall EMS One Prize Money per Season
| Ranking | Cup #1 - #4 | | Live Event Finals |
| --- | --- | --- | --- |
| 1st Place | 600$ | | 12,000$ |
| 2nd Place | 200$ | | 7,000$ |
| 3rd Place | 100$ | | 4,000$ |
| 4th Place | 100$ | | 4,000$ |
| 5-8th Place | | | 2,000$ |
RaidCall EMS One Spring Season
There is no previous season of the RaidCall EMS One, therefore we will accept eight invites from renowned teams. Please write us an e-mail with the following information: Team name, Team's country, Website URL, Full names, nicknames and nationalities of the players, a list of accomplishments and a description in less than 100 words why you would be the perfect addition to the EMS One to
[email protected]
Deadline for your application is the 3rd of February at 12:00 CET.
This leaves 16 spots for teams from the
Dota 2 A-Series
.
Sign up now for the
A-Series
to get the chance to qualify for a RaidCall EMS One Cup. In the
A-Series
you can choose on which dates you would like to play. Pick the match dates suiting your team best and advance up to the Premier Division and face the best teams in the EMS One! Find more information on the A-Series in our
FAQ section
.
RaidCall EMS One Spring Season Schedule

Dota 2 RaidCall Cup #1 - February 11th/12th - Qualify via A-Series


Dota 2 RaidCall Cup #2 - February 18th/19th - Qualify via A-Series


Dota 2 RaidCall Cup #3 - February 25th/26th - Qualify via A-Series


Dota 2 RaidCall Cup #4 - March 11th/12th - Qualify via A-Series

---

Dota 2 Group Stage : Groups A & B - March 18th - 24th


Dota 2 Group Stage : Groups C & D - March 25th - 31st

---

Dota 2 Live Events Finals - April 20th/21th

otacon
, Tuesday, 29/01/13 10:01


Information:
info write comment not allowed