EMS Winter 2012 WoT - Winners!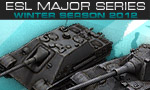 ESL Major Series Winter Season 2012 World of Tanks is now finished and it's time to draw the line and see all the winners of this competition. At this level, you cannot call yourself a loser because all the teams are very good and all played extraordinary in this season. We've seen great teamplay during this season, and many many awesome actions from well-known players. The previous EMS Winners did not disappoint us as they managed to create a first in the ESL Major Series, winning twice in a row this tournament!
Winners and Final Match
Final started with Himmelsdorf, map picked by

Lemming Train EMS
! The poles had a great chance to win this first map when they went with 3 heavies and one t1 to the enemy base to cap! It should have been an easy job but unfortunately for them the russians got back in time to reset the cap and destroy them leaving their other 2 heavies alone in this battle! 1-0 for

The RED Rush
!
Ensk - fastest map in the EMS!

Lemming Train EMS
needed only 2:30 minutes to win this map as they dispatched their tanks extremely good in the city and managed to kill 2 polish heavy tanks in this process! At this point,

Lemming Train EMS
knew that their only chance is to cap the enemy base so they went ahead to the cap zone but they didn't expect

Ec1ipse
, driving a T1, to be in the bushes waiting for them! He had a very important role in this map as he managed to get one T1 and to reset the cap several times, even by hitting the AMX 50 100 that was there to protect the T1. 2-0 for

The RED Rush
!
At this point,

Lemming Train EMS
had to win 3 maps to become the new ESL Major Series Winners. Widepark was their pick and as the map started they managed to get one T1. It looked like a great start for them but they surely didn't expect

6067262
, driving a T32, to push from the city to the enemy base, hiding in a great spot and making a lot of damage to the poles. This action made

Lemming Train EMS
to make a call! They decided to push to the enemy lines with 3 tanks, a bad decision unfortunately as they got bashed easily by the russians and thus making

The RED Rush
the new
ESL Major Series Winter Season 2012 World of Tanks Winners
! A well-deserved victory! Congratulations!
Prize money breakdown
With a total prize money of
€15,000
this season not only the top 3 teams have the chance of winning money. The prize money will be distributed as follows:
| | |
| --- | --- |
| | EMS Winter Season 2012 - World of Tanks |
| 1st | €5,000 |
| 2nd | €2,500 |
| 3rd | €2,000 |
| 4th | €1,500 |
| 5th-8th | €1,000 |
You can keep yourself up to date on your favourite ESL Major Series tournament(s) by visiting our
Facebook
or
Twitter
pages which has additional media such as regular clips, Video on Demand, interesting information and sometimes raffles. Of course we gather all our tournament information right here on our
Main page
.
Searching for a match? Try
VERSUS
!
The fastest and easiest match maker
Your

Staff
FoaMeA
, Monday, 07/01/13 06:17

No comments yet.

Information:
info write comment not allowed