Archive ESL Europe Europe ESL Major Series Winter 2012 World of Tanks
EMS WoT Winter Season - Groupstage Playday 4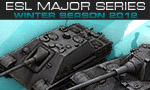 We're closing in to the end of the ESL Major Series Winter Season 2012 Groupstage, but we still have a lot of interesting matches for you, and some of them will be streamed today! Looking at the Groups, in some of them we already have a good picture of who will qualify but one question still remains: who will qualify in first place and who will qualify in second place? Today we'll feature two matches, one from Group A, and one from Group D. The teams are very good and they will all fight for a better seeding in the Playoffs. What are you waiting for? Get your beer and popcorn and tune in to see these matches live on our stream!
Streamed matches in Playday 4
The first match that will be streamed is between two teams that fight for the first place in Group A,

RoX.KIS EMS
and

team,
Virtus.PRO (WoT)
. In the first encounter, the russians managed to overcome their opponents so they are now number 1 in Group A. However, I'm pretty sure that their opponents have learned their lesson and promise to show them hell tonight!
Second match is a battle for the first place of Group D, between

Red Tide EMS
and

Lemming Train EMS
. Every team wants to have a good seeding in the Playoffs so they are playing at their best now. In their previous encounter,

Lemming Train EMS
managed to win with 2-1 against their opponents in an amazing very close battle. Will they win again? We'll have the answer tonight, at 20:30 CET! Don't forget to tune in to see this match live!
The live Stream
Next to our World of Tanks caster
Steven 'sne' Neale
you will see ESL TV's Allrounder
Joe 'Joe Miller' Miller
presenting actionpacked battles to you. All you have to do is tune in to support your favorites.
You can also expect news to feature important matches, statements from players, match reviews and VOD's! All this content will be available for you in this season of the ESL Major Series XI World of Tanks, so don't forget to check it out!
Watch live video from ESL TV WoT on en.twitch.tv and follow to stay tuned for future events
Prize money breakdown
With a total prize money of
€15,000
this season not only the top 3 teams have the chance of winning money. The prize money will be distributed as follows:
| | |
| --- | --- |
| | EMS Winter Season 2012 - World of Tanks |
| 1st | €5,000 |
| 2nd | €2,500 |
| 3rd | €2,000 |
| 4th | €1,500 |
| 5th-8th | €1,000 |
Timeline for the EMS Winter Season
If you have any questions, use the comment section below or contact us via
support
.
You can keep yourself up to date on your favourite ESL Major Series tournament(s) by visiting our
Facebook
or
Twitter
pages which has additional media such as regular clips, Video on Demand, interesting information and sometimes raffles. Of course we gather all our tournament information right here on our
Main page
.
Searching for a match? Try
VERSUS
!
The fastest and easiest match maker
Your

Staff
FoaMeA
, Thursday, 15/11/12 11:15

No comments yet.

Information:
info write comment not allowed