Archive ESL Europe Europe ESL Major Series Winter 2012 TrackMania Nations Forever
EMS Winter 2012 TMNF: Relegations *updated*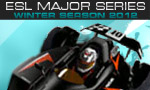 The groupstage has ended, so we have now twelve best players from all over the world! It is time to release some information about the Relegations. Click and find it all out! We also here with a premium raffle! Who will advance to the Playoffs? Make a prediction and win 1 Month of Premium!
Players in the Relegation phase
After 6 weeks of fight, we are now know the best twelve racers of

Trackmania Nations Forever who have successfully reached the relegational phase of ESL Major Series Winter Season 2012. They are:
---



Schedule
Players are asked to join the
EMS Players' Forum Board
in order to find the best date for you all.
By default, the Relegations are to be held on Saturday, 15th December 1700. The Playoffs are to be held on Sunday, 16th December 16:00.
Matches and Rules
In this Relegational phase, one player from each group will leave the ship. By predicting the two best from each group, you can win a

Premium key worth 1 Month! See details below.
ESL Cup Mode Rules:

Game Mode: ESL Cupmode

Max Players: 3

Point Limit: 120

Points per round: 10 6 4

Rounds per challenge: 3

Number of winner: 2

Warm-up phase duration: 1
About ESL Cup Mode, find more information in
this news
.
Map distribution
No new tracks will be used for Relegations and Playoffs.
All known maps will be played, which means: ESL - Beatdown, ESL - Fustang, ESL - Chronicle, ESL - Guilty and ESL - Eistee'.
Win Premium!
Predict the top 2 from all matches in the comments! Every player predicting the correct answer will have the chance to win one month

Premium.
Winner

1 Month Premium

---
You can keep yourself up to date on your favourite ESL Major Series tournament(s) by visiting our
Facebook
or
Twitter
pages which has additional media such as regular clips, Video on Demand, interesting information and sometimes raffles. Of course we gather all our tournament information right here on our
Main page
.
Searching for a match? Try
VERSUS
!
The fastest and easiest match maker
Your

Staff
Rasque
, Tuesday, 11/12/12 19:03


Information:
info write comment not allowed