ESL Major Series Winter 2012: TMNF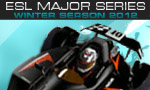 It is time to announce the next season of the ESL Major Series, where Trackmania took its own place again. After three seasons of team modus, the 1on1 is back! Find more info in this news.
1on1 mode is back!
After three seasons of team modus, ESL is bringing back Trackmania to the 1on1 fields. This means, that the overall prize could be much higher than before, per person. Maybe, with this step, we could gain a bit more activity in our game, regarding the solo competition mode.
Opening a new 1on1 season means that we will need a complete qualification period. The qualifiers will be held in the European section, so no national qualis are going to be organized.
Planned schedule
Qualifications
During the opening period,
six qualification cups
will be held. In each cup, the best four players are winning a slot for the EMS Winter Season 2012.
Matchmode
: Single elimination cup, best of 1
News soon!
Groupstage
In this season, 24 players will be seeded into four groups, each containing six players. They will meet once during the groupstage phase. Thus this period will last 5 weeks. From each group, the best three drivers will advance to the relegational phase.
Matchmode
: 1on1, best of 3
Relegations
As we still prefer the awesome 1on1on1on1 modus in our game, a relegational phase will be needed to have the best 8 players for the Finals. Therefore a relegation is going to be held.
12 racers will be seeded into 4 groups. From each, one player will have to leave the EMS, two remain in the championship.
Matchmode
: TMNF Cup Mode
Semi-Final and Final
The best 8 will go into the final phase. Two 1on1on1on1 matches will decide who will advance to the Finals.
Matchmodes
: TMNF Cup Mode
Planned schedule summary

Qualifications: 16th September-21st October

Groupstage:
First match: 28th October
Second match: 4th November
Third match: 11th November
Fourth match: 18th November
Fifth match: 25th November

Relegations: 1st-2nd December
Playoffs: 9th December


Prizes
| | |
| --- | --- |
| | EMS Winter Season 2012 TMNF Europe |
| 1st | € 400 |
| 2nd | € 250 |
| 3rd | € 100 |
What about CAP?
More information will follow about CAP/CPS soon!
Competition maps wanted!
Check out the latest news about wanted maps:
"ESL - Maps Wanted!"
You can keep yourself up to date on your favourite ESL Major Series tournament(s) by visiting our
Facebook
or
Twitter
pages which has additional media such as regular clips, Video on Demand, interesting information and sometimes raffles. Of course we gather all our tournament information right here on our
Main page
.
Searching for a match? Try
VERSUS
!
The fastest and easiest match maker
Your

Staff
Rasque
, Thursday, 06/09/12 04:03


Information:
info write comment not allowed