EMS Winter '12 FIFA13: Qr1&Qr2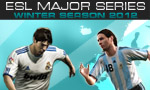 We had to reschedule the QR1 and QR2 because of some national qualifiers but now we begin the next phase. Let's see the details and pairings.
Cup details

Date*: Qr1: 22.10.12, 18:00CET ¤¤ Qr2: 23.10.12, 18:00CET


Mode: BO3 system (2 wins needed) Possible final results: 2:0; 2:1; 1:2; 0:2)


Links: EMS X FIFA13 Rules, Global Rules, Wire portal


Questions? IRC (#esl.ems.fifa @ Quakenet) and Support ticket


*The cup begins officially at 18:00CET but you can play all the day.
The only limitation that all matches have to be played until 21:00CET on both days.
Qr1 Rankings
Qr2 Rankings
Click here for the Qr1 matches

Click here for the Qr2 matches

QR1 and QR2 - Information
The winners of the QR1 will qualify themselves into the QR2. Finally the QR2 winners get into the ESL Major Series Groupstage.
Schedule
National Qualifiers: until 10th October
European Qualifier: on 11th October

Qualifying Round 1: on 20th October ***UPDATE*** 22.10.2012 18:00CET
Qualifying Round 2: on 21th October ***UPDATE*** 23.10.2012 18:00CET

Groupstage #1: 25 Oct - 28 Oct
Groupstage #2: 29 Oct - 4 Nov
Groupstage #3: 5 Nov - 11 Nov
Groupstage #4: 12 Nov - 18 Nov
Groupstage #5: 19 Nov - 25 Nov

Playoffs
First round: 3 Dec - 9 Dec
1/4 Final: 10 Dec - 16 Dec
Semi Final: 17 Dec - 19 Dec
Finals: 20 Dec - 23 Dec


You can keep yourself up to date on your favourite ESL Major Series tournament(s) by visiting our
Facebook
or
Twitter
pages which has additional media such as regular clips, Video on Demand, interesting information and sometimes raffles. Of course we gather all our tournament information right here on our
Main page
.
We wish good luck to all participants!
// Your


Admin Team!
601735
, Monday, 22/10/12 07:02


Information:
info write comment not allowed