Archive ESL Europe Europe ESL Major Series Winter 2012 Counter-Strike: Global Offensive
EMS CS:GO Winter 2012: Playoffs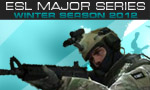 After 2 months of matches the 12 best European teams have now won their ticket to the Major Series Winter 2012 Counter-Strike: Global Offensive Playoffs. Within this news you get the information which teams these are and how the playoffs tree looks like.
Playoffs
The playoffs is a 12 teams single elimination tournament, best of three map choosen by veto system, and take place between the 22th November and the 19th December including relegation.
Map choice (BO3)
To decide which maps are played in a ESL Major Series BO3 match, a veto system is used. Both teams alternatingly remove or choose one map from the pool :
the higher ranked team begins to eliminate the first map

the lower ranked team eliminates second map

the lower ranked team picks his map

the higher ranked team picks his map

the match starts with the last one

the second map will be the one chosen by the looser

the last one will be played then if necessary.
If there is no official rank between the team yet in the competition, admin will have to drawn.
Playoffs Tree
Relegation Matches

Playoffs Tree

Upcoming and played Matches
Watch your favorite games and the team play of the EMS participants live! All matches will be broadcast on Source-TV.
Schedule - Tournament
Qualifying Round 1: 14th October - 20th October
Qualifying Round 2: 21nd October - 27th October
Groupstage: 5th November - 10th December
Playoffs: 16th December - 15th January

Prize Money
| | |
| --- | --- |
| | Prize money distribution ESL Major Series Winter Season 2012 |
Counter-Strike: Global Offensive

1st
2.500 €
2nd
1.500 €
3rd
1.000 €



Stay Up To Date
You can inform yourself anytime about what is happening on the
EMS Mainpage
. You can inform yourself about everything: News, upcoming matches and the current rankings. All of this on one page, so bookmark it!
Good luck to all our participants and don't forget to idle in
#esl.ems
!
Your


Admin Team
dNN
, Thursday, 13/12/12 08:21

No comments yet.

Information:
info write comment not allowed