Archive ESL Europe Europe ESL Major Series Winter 2012 Counter-Strike: Global Offensive
EMS CS:GO Winter 2012: The Teams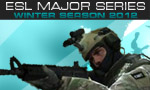 The qualification rounds will be finished soon, so we can already announce you almost all the 24 teams for the upcoming CS:GO Major Series Season Winter 2012 Main Round which will start on Monday 5th November.
Qualified Teams for the EMS CS:GO Winter 2012 Main Round
Teams directly qualified to Main Round

mousesports

FlipSid3 Tactics

MaxFloPlaY EMS

Team JUGGERNAUT

Ninjas in Pyjamas

CPLAY Tt.eSPORTS

Anexis eSports e.V.

Imaginary Gaming

eXtensive

Team GAMED!DE

n!faculty

HyperX FR34KSHOW EMS
Teams qualified from QR

Wizards Club CS:GO

CodeRed Gaming EMS

zNation

Wizards Club

3DMAX

0ld but G0ld

FiNEST

swissRAGE

redzone.6

Team ALTERNATE

Damage Gamers Belgrade
Teams still in qualifier

k1ck eSports Club or

Jeronimo
Main Round Information
All teams have time until Thursday 1st 23:59 CEST to fix all the required points. Starting Friday 2nd, all accounts will be locked, checked and all missing requirements will be sanctioned.
The 4 groups will be drawn on Friday.All the direct qualifiers randomly will be put in seed1, seed2 and seed3 of each one. Then, all the teams from QR will be randomly put in seed4, seed5 and seed6.
It is very important that all teams open a
supportticket
were they tell us which persons should get access to the players board for the EMS Winter 2012 season. Up to 3 players can get access to the forum. Besides please check again your team-sheets according to the requirements of the rules / sent e-Mail.
Schedule
Qualifying Round 1: 14th October - 20th October
Qualifying Round 2: 21nd October - 27th October
Groupstage: 5th November - 10th December
Playoffs: 12th December - 30th December

Please be informed that the schedule for the group stage is not fixed yet! Maybe we start a bit earlier. But nevertheless all teams of the group stage will receive a mail first with further information!
Prize Money
| | |
| --- | --- |
| | Prize money distribution ESL Major Series Winter Season 2012 |
Counter-Strike: Global Offensive

1st
2.500 €
2nd
1.500 €
3rd
1.000 €



Stay Up To Date
You can inform yourself anytime about what is happening on the
EMS Mainpage
. You can inform yourself about everything: News, upcoming matches and the current rankings. All of this on one page, so bookmark it!
Good luck to all our participants and don't forget to idle in
#esl.ems
!
Your


Admin Team
dNN
, Tuesday, 23/10/12 11:31


Information:
info write comment not allowed