Archive ESL Europe Europe ESL Major Series Winter 2012 Call of Duty 4
EMS CoD4: Playoffs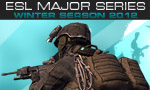 The Group Stage phase is now over, and we are ready to announce playoffs and teams that will compete. Unfortunately, it's has been a really rough season. Only seven out of 16 teams have managed to stay in the competition throughout 6 weeks of group stage matches. The reasons for it were different - some teams would not get premium accounts, some have collected too many penalty points for different reasons and some have sadly decided to leave competition on their own.
In the end, six teams were put through to playoffs, therefore there will only be 3 rounds of playoffs for most of the teams. The ESL would like to congratulate everyone that made it so far and wish you good luck in the playoffs.
Tournament Tree
Prize Money
| | |
| --- | --- |
| | Prize money distribution ESL Major Series Winter 2012 |
Call of Duty 4

1st
1.250 €
2nd
750 €
3rd
500 €



You can keep yourself up to date on your favourite ESL Major Series tournament(s) by visiting our
Facebook
or
Twitter
pages which has additional media such as regular clips, Video on Demand, interesting information and sometimes raffles. Of course we gather all our tournament information right here on our
Main page
.
Your

Staff
johNNy
, Wednesday, 19/12/12 13:07


Information:
info write comment not allowed