Archive ESL Europe Europe StarCraft II
RaidCall EMS Spring 2013 StarCraft 2 Clan: Qualification *Update*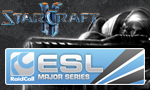 The recently renamed RaidCall ESL Major Series is back for yet another season - and this time it features StarCraft 2, Clan league. Sixteen teams will be given a chance to compete in our online money prized competition and they will be doing so on the recently released Heart of the Swarm.
Qualification System
50% of the teams participating in the RaidCall ESL Major Series Spring 2013 will get a direct invite based on the complete overview of the team itself - and will be announced before the qualifier cups start. All teams whom are interested should signup to the first cup.
The other eight teams are going to have to qualify from one of two upcoming qualifier cups which has no signups limit and all teams may signups to both. The majority of the league will be European based due to the usage of the EU server. If you have a question surrounding this or other related matters, everyone can make a
support ticket
. The top 4 teams from each cup will get their slot in the groupstage which will sport 4 groups of each 4 qualified clans!
Each match will be played 3x1on1 Bo3 so 3 players are required, Heart of the Swarm on EU server.
*Update*
We moved the first qualifier to Wednesday because of a schedule conflict with the EPS! Both qualifiers will start at 19 CET.
Schedule
Groupstage: Start 1st of April 2013
Playoffs: Start 29 April 2013
No more than 1 match should be played per week. Each match will have a designated date, however the teams are able to reschedule, if the opponent agrees, and each team has 1 wildcard.


Broadcasting
All broadcasters who are interested, in any language, are welcome to apply in a support ticket as well as any related coverage, we will promote you on our website.


Prize Money
| | |
| --- | --- |
| | Prize money distribution ESL Major Series Spring 2013 |
StarCraft 2

1st
€2,500
2nd
€1,500
3rd
€1,000



What is RaidCall?
RaidCall makes communication with groups of people fast and easy. Using minimal CPU resources, this free software is the ideal group communication solution for all types of users, especially online gamers looking to utilize effective teamwork. RaidCall also offers unique features such as Hi-Fi voice chat for groups of up to 10,000 people, optional speaking modes, and flexible group management tools.






You can keep yourself up to date on the RaidCall ESL Major Series tournaments by visiting our Facebook or Twitter pages which has additional media such as regular clips, Video on Demand, interesting information and the occasional raffle.



Your

RaidCall ESL Major Series Staff
johNNy
, Monday, 18/03/13 15:21


Information:
info write comment not allowed