RaidCall ESL Major Series Spring Season 2013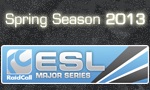 With every coming season of the RaidCall ESL Major Series we introduce some changes and that is no different with the now announced Spring Season 2013. We are very proud to share that RaidCall is the title sponsor, and as of now each year will have 3 seasons instead of 2!
Since the summer of 2007 we have hosted a total of eleven seasons with over 30 games, 252.000 Euros prize money and an incredible amount of teams and players involved from national qualifiers until the finals. The tournaments are the highest level of online European competition for a number of deserving gaming titles.


Spring Season 2013
You will notice some changes in the line-up of our games compared to last season, as we always research them carefully based on popularity on ESL and beyond.
StarCraft 2 Clan League: 5,000 €

League of Legends Nordic + East: 5,000 €

FIFA 13 1on1: 1,000 €

Call of Duty: Black Ops 2: 3,000 €
We have chosen to make

StarCraft 2 Clan as our main game together with

Call of Duty: Black Ops 2,

FIFA 13 and

League of Legends EUNE.

World of Tanks will not be part of the line-up for the RaidCall EMS this season but World of Tanks fans do not fear as there will be an exciting announcement soon.

CS:GO has moved on to

RaidCall EMS One
, and after a long service we decided to retire

TMNF and

Call of Duty 4.
What is RaidCall?
RaidCall makes communication with groups of people fast and easy. Using minimal CPU resources, this free software is the ideal group communication solution for all types of users, especially online gamers looking to utilize effective teamwork.
RaidCall
also offers unique features such as Hi-Fi voice chat for groups of up to 10,000 people, optional speaking modes, and flexible group management tools.
More on the RaidCall ESL Major Series, as well as the qualification information, tournament structure and the first participants, will be announced very soon.
Johan
, Thursday, 31/01/13 12:50