Archive ESL Europe Europe ESL Major Series Spring 2013 League of Legends
RaidCall EMS Spring 2013 Nordic&East: Group Stage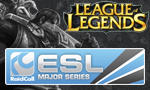 The RaidCall ESL Major Series Spring 2013 League of Legends Nordic & East is about to start, and this are your groups. Sixteen teams that have qualified through playing A-Series, three qualification cups or simply by being in the top four last season will now compete against each other in a three-week long group stage period where the best teams for playoffs will be decided.
Teams have been placed in their groups based on overall activity, skill and past success as well as the results they are achieving right now as teams. One team in the Group D is yet unknown and will be decided by the end of this week. Four teams that reached the quarter final in the last chance qualification cup but lost were invited back to a
battle between themselves
for the last remaining slot.
Streaming
In case someone wants to stream any of the matches, a support ticket needs to be opened for approval at least 48 hours before the match. Of course, some requirements will have to be met (twitch.tv only, at least 2 min delay, etc.)
Matches will frequently be streamed at ESL.TV, so make sure you keep an eye there.
Prize Money
| | |
| --- | --- |
| | Prize money distribution ESL Major Series Spring 2013 |
League of Legends

1st
2.500 €
2nd
1.500 €
3rd
1000 €



What is RaidCall?
RaidCall makes communication with groups of people fast and easy. Using minimal CPU resources, this free software is the ideal group communication solution for all types of users, especially online gamers looking to utilize effective teamwork.
RaidCall
also offers unique features such as Hi-Fi voice chat for groups of up to 10,000 people, optional speaking modes, and flexible group management tools.
You can keep yourself up to date on the RaidCall ESL Major Series tournaments by visiting our Facebook or Twitter pages which has additional media such as regular clips, Video on Demand, interesting information and the occasional raffle.
Your

RaidCall ESL Major Series Staff
johNNy
, Wednesday, 03/04/13 12:19

No comments yet.

Information:
info write comment not allowed