Archive ESL Europe Europe ESL Major Series Season IX League of Legends
First qualification round for ESL Major Series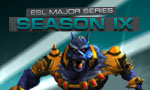 The first qualification round for the League of Legends ESL Major Series is ready to take off! 24 teams from Europe will play against each other in 12 thrilling matches. But this is just the first step for awesome League of Legends action in the ESL Major Series. Alltogether 5,000 Euro prize money will be distributed!
The road to the ESL Major Series
Two qualification rounds with 24 teams and 12 matches each will be played. The winners of each match will reach the next round. After two qualification rounds the teams will be divided in four groups with four teams each and the group stage of the ESL Major Series can start!

Matches of the first qualification round
339429
, Wednesday, 26/10/11 10:32


Information:
info write comment not allowed