Archive ESL Europe Europe ESL Major Series Season IX Heroes of Newerth
EMS IX Heroes of Newerth Qualifier #3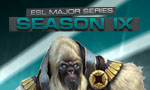 The first two qualifiers have been completed so now we are presenting qualifier three. Sign up today to play at the end of the week and grab a piece of this season's prize pot of 5.000 Euros and claim your fame in Heroes of Newerth or reinforce your already established skill sets.
The results so far are for qualifier #1

HoNPortal.org
,

sGty
and

Lythownia
and for qualifier #2

TRIV
,

QQ Clan
and
Loizs homies
, congratulations to them on qualifying.
Qualifier Information
To determine the best teams to play in the main round of the ninth season of the ESL Major Series, we will host a total of four qualifier cups. The cups will be fought out in 5on5. Here are all the dates and information about the upcoming qualification period. It is depending on the sign ups how big the qualifiers will be. The top four from last season will be invited in to the main round.
Rules

Team Size: 5on5

Maps: Forest of Calvadar

Mode: Best of 1

Qualification: Top 3 of each cup qualify for ESL Major Series Season 9

First qualification Cup: 11 September - 15:00 CET
Qualifier Cups
Cupsize: To be determined
Mode: Single elimination
Sign-up Dates: Now until the start

Sunday, 28th August 15:00 CEST - Qualification Cup #1
Sunday, 4th September 15:00 CEST - Qualification Cup #2
Sunday, 11th September 15:00 CEST - Qualification Cup #3
Sunday, 18th September 15:00 CEST - Qualification Cup #4


Qualifier number #3


Prize Money Distribution
| | |
| --- | --- |
| | Prize money distribution ESL Major Series IX |
Heroes of Newerth

1st
2.500 €
2nd
1.500 €
3rd
1.000 €



Good luck and have fun! The

Staff
Johan
, Monday, 05/09/11 13:48


Information:
info write comment not allowed