EMS VIII Quakelive: The Seeds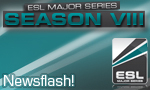 The 16 teams qualified for the EMS VIII Quakelive TDM 2v2 have now been seeded!

As the Group Stage will be composed of 4 groups of 4 teams, the teams have been seeded into 4 different seeding pools in order to prepare the drawing of the groups in the next days. The 4 seeding pools rank from Top to Low with High and Medium in between.
Seeding pools
Top Seeds
Reason Gaming 2v2 (noctis & zyv)
DDestiny.ru (Cooller & Jibo)
Serious Gaming 2v2 (av3k and wEst_)
Four Kings - 2v2 (Krysa and zik)

High Seeds
IP (pavel & 421)
Action ligan (bl4jndinaCtion and Fragma)
hardcore (Silencep & s8n)
Excelsior 2v2 (dash & feeder)

Medium Seeds
xentorium 2v2 (frs & provi)
c58tv (skillzIExtreme & uaShadow)
1fall (Danmer & LimoN)
TA.2on2 (dem0n & madix)

Low Seeds
Czech Rep. (debtorr & flatecek)
opla! (fl4sh & Rickmage)
the two firefuckers (Andy and randallFlagg)
bubu (alfaomega & mt_CTAPOCTA)


If everything goes as predicted, the groups should be ready this weekend. And the first Playday is still planned for the 21st of March.
Feedback & Support
We would like to see your feedback and questions in our
Forum
. You can also visit us in our IRC Channel
#esl.quakelive
(QuakeNet) or you can write a
Support
Ticket.
your

ESL Europe
xou
, Wednesday, 09/03/11 14:14


Information:
info write comment not allowed