Archive ESL Europe Europe ESL Major Series Season IX
Introducing the ESL Major Series Season IX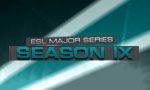 It began in 2007 and still running strong today, the league for Europe's best gamers for the strongest games not included in the Intel Extreme Masters. We proudly present the ninth season of the ESL Major Series! The finest leagues, more than a thousand players competing and thousands more will try to qualify - with 22,500 Euros worth of prize money for the best of the best. Get ready to rumble for the new season!
The

ESL Major Series
is the highest level of European competition in the ESL for games and disciplines not included in the

Intel Extreme Masters
. Over the past eight seasons and four years, more than €100,000 in prize money has been won by hundreds of gamers.
Team disciplines
World of Tanks (7on7): €7,500
Heroes of Newerth (5on5): €5,000
Counter-Strike: Source (5on5): €4,000
Call of Duty 4 (5on5): €2,500
Trackmania (Team mode): €2,000
Quake Live (duel): €1,000
FIFA (1on1): €500
ESL Major Series IX

Prize Money: €22,500
Prize Money Distribution
As always the Prize money for the majority of the ESL Major Series games is sponsored by the Electronic Sports League and some are Sponsored games.
Changes!
As with every season there are some changes as part of our on-going search for the best games to feature in today's eSport climate. We have decided to change

Quake Live from 2on2 TDM to Duel,

Call of Duty: Black Ops has been rewinded to

CoD4 and

PES has been officially retired from the EMS. More information for each game's qualifiers will be announced in the upcoming days.
"My game isn't in the list?"
Each season we look at the activity from every game on ESL and beyond. Due to low activity we chose not to opt for any other game at this point in time. If you don't see your favourite game in the list, then do what you can to make it more active on the ESL and it could be included next season.
National rankings and tournament slots
We have completed the necessary calculations to properly award each nation with slots they deserve based on previous results in the EMS. These count for the games that are internationally supported (on the ESL website). If you think that your country isn't getting enough slots, it's you mission to improve that by reaching as far as possible in to the tournament(s). You can view the slots
here in PDF format
.
More details?
Details on how to qualify for Season IX in all games will be announced during this week.
More to come?
Yes! In the middle of this week we will release a special announcement for Season IX. What could it possibly be? Only time will tell..
Have fun and good luck!
Johan
, Monday, 22/08/11 14:25