Archive ESL Europe Europe ESL Major Series Season VII
Season VIII: Heroes of Newerth is the first title!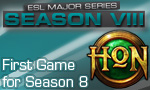 Today we are proud to announce Heroes of Newerth as the first title of the upcoming ESL Major Series Season 8! In Heroes of Newerth, based on the popular mod DotA, two teams of up to five members fight against each other to destroy the enemy base. Who will claim the first major title in Season 8?
The ESL Major Series starts the new year with a heroic bang, announcing today that Season VIII will introduce a new and highly requested title to the mix. Heroes of Newerth (HoN), based on the popular mod, Defense of the Ancients (DotA), will become an official game within the major league.


About Heroes of Newerth:
The session-based, multiplayer, action-RPG recently released a highly anticipated and upgraded version, HoN 2.0, which features a more action-packed game style that enhances the adrenaline factor for hardcore gamers and attracts more casual gamers. In addition to enhanced visual elements, 3V3 map and map editor, and cosmetic items shop, HoN 2.0 easily matches teammates with a new Match Making System. HoN 2.0 also introduced an entirely new game play mode – Casual Mode – that lowers the barrier to entry for new and casual gamers.

HoN 2.0 streamlines the game play experience, enabling faster and shorter games– and taking the HoN platform one step further than DotA. HoN, since its launch earlier this year has garnered a dedicated following, with more than 12.3 million downloads, and an average of more than 230,000 players per day. The team-oriented design of HoN, when combined with the HoN 2.0 upgrades, allow for an incredibly deep tactical team-based experience unlike any other.

In addition to the ESL Major Series integration, HoN, developed by S2 Games, will become an important eSport-title within the ESL. Further information on the upcoming ESL Major Series Season 8, the details on Heroes of Newerth and more will be announced in the upcoming weeks.

Soodi

, Wednesday, 05/01/11 10:42


Information:
info write comment not allowed