Vote 1,000 Euro extra into the ESL Major Series VII!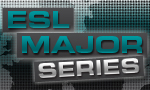 As an initiative for communities to further support their game, we are launching a competition for the games that are already selected for or could be suitable to add to the EMS.
A total of 19 games and their communities will get the chance to either increase their total prize money or get their game added to the EMS with another whopping
€1,000
.
This is a unique challenge that will go on for two weeks and is meant to award the most active and endeavouring game community.
How to participate
There are two ways;
A community poll
Every gamer has the chance to vote for their favourite game, it includes the current EMS games and those we believe could be the most suitable.
Go and vote now!
Tag your matches
We have come up with a way to 'tag' your matches which we can then count after the two weeks are up. It is very simple, for every match you play in the
any section
, in the game that you want the prize money increased or be included in the EMS, you have to add a match statement "
4EMS7
" (no quotes, no spaces, exactly as it is written - you may enter other text in the same statement). One statement per team and per player in your most played game will be counted.
In a nutshell:
create a match anywhere => add
4EMS7
in the match statement => go play.
How to make a match statement:

Before you can write a match statement, the match status has to be set to "open"

Once set to open, you press "write a match statement", which is located right up under parameters (also the place where you have to press "matchsetup (enter result)")

In the match statement you add "4EMS7".

A good match statement would look like this: We will pwn you and show everyone we are 4EMS7
When the two weeks are up, we will count every vote and tag, combine the two and award the most selected game with
€1,000
!
The competition starts now, Tuesday 22nd June 21.00hCET, and will end on Tuesday 6th of July at 21.00hCET.
Update:
We've expanded the match tagging from Europe to
anywhere
!
Johan
, Tuesday, 22/06/10 15:32