Archive ESL Europe Europe ESL Major Series Season VII
Introducing ESL Major Series Season VII!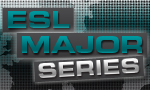 Today we proudly present to you the 7th season of Europe's top online league. The finest leagues, more than a thousand players competing, several thousands more will try to qualify - and €16,500 worth of prize money is up for grabs. Get ready for the ESL Major Series Season VII!
The

ESL Major Series
is the highest level of European competition in the ESL for disciplines not included in the

Intel Extreme Masters
and has already awarded more than €100,000 in prize money to hundreds of gamers in the past four years.
While
Season VI
is still running towards the end, we are already able to announce the upcoming season's games and prizemoney distribution for the 7th installment coming to you
September 2010
.
Team disciplines
Counter-Strike: Source (5on5): €3,000 (Premium)
Call of Duty 4 (5on5): €2,000 (Premium)
FIFA Clanwar (3x1on1): €1,250 (Premium)
Avalon Heroes (5on5): €5,000 (publisher sponsored)
Quake Live (4on4 TDM): €750
Team Fortress 2 (6on6): €750
Day of Defeat: Source (6on6): €750
America's Army (4on4): €750
Enemy Territory (5on5): €750
1on1 disciplines
Warcraft 3: €500 (Premium)
Trackmania: €500 (Premium)
Pro Evo Soccer: €500 (Premium)
Prize money for the ESL Major Series, as always, is sponsored fully by the Electronic Sports League, except in games marked as sponsored by their publisher.
Counter-Strike 1.6 and other games
Counter-Strike 1.6 is included in the
Intel Extreme Masters
. DotA and DoW2 are not coming back for season 7 due to the level of activity but may return when that increases again. If you don't see your favourite game in the list, help increase the level activity here on ESL and who knows next season it might be included.
Selecting the games
We have 3 types of games in the EMS, first there are the games with national qualifiers, 2nd type are the games with International qualifiers and last but not least we have publisher supported games. The latter are for now limited to one,

Avalon Heroes, but in time that will increase. Selecting the none supported games is mainly based on the activity, performance and statistics of the game in the ESL.
More details?
Details on how to qualify for Season VII in all games will come in the not too distant future!
More coming
Tomorrow we will release part two of this announcement, we are doing something special this season but we cannot give away too much for now. It may be an extra game, perhaps some extra prize money or maybe both? Stay tuned!
Johan
, Monday, 21/06/10 15:57


Information:
info write comment not allowed