Archive ESL Europe Europe ESL Major Series Season V Team Fortress 2
EMS V TF2: TCM-Gaming wins!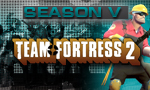 The ESL Major Series Season V is over! After many tense and good matches we finally have a winner: TCM-Gaming. Congrats!
ESL Major Series Season IV: Ranking
Grand Final
could not load match with id #16329869
It was a very exciting match. Both teams fought on a godlike level, but as always one team has to be the winner and one the loser (at least for that match). After two grand finals

TCM-Gaming won the ESL Major Series Season V
3:2
. All maps were very close and both teams had the opportunity to win the match.
Thanks for that exciting and good

ESL Major Series. Hope to see you next season again!
// Your

Staff
Zippi
, Wednesday, 24/02/10 18:42


Information:
info write comment not allowed