EMS Season V Quake Live Playoffs
EMS V Quakelive : fnatic prevails!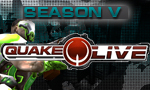 Only one Set was played in the Grand Final as the 4Kings only managed to win the first map while fnatic won the next two. But with many connection and computer problems, it took about three hours for these three very close maps!
EMS V Quakelive TDM 4v4 Rankings
Don't forget to check the
match details
of the Grand Final for demos. Thanks to all the teams and players who participated in this tournament!
EMS VI Quakelive TDM 4v4 Announcement
As you may already know, the
6th season
of the EMS will feature a new Quakelive TDM tournament. Stay tuned for more news about this new challenge!
Your


Admin-Team
xou
, Friday, 26/02/10 06:21


Information:
info write comment not allowed