EMS Season V Quake Live Playoffs
EMS V Quakelive : WB Final soon?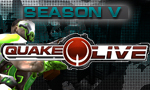 Amongst the 16 teams who made it to the playoffs, 2 are already out! And soon a new team will have to say good bye to this competition with the last match of the Loser Bracket round 1. Let's have a look on the remaining games.
Groups final ranking
After the troubles with the schedule in group A, the 2 teams who made it in this group were finally known :

fnaticMSI
and

abusive ql
.
Playoffs matches review
In the first round of the Winner Brackets,

fnaticMSI
managed to beat their Hungarian opponents in 2 close maps. For

LowLandLions
and

mowers
the games turned into three-mappers, but they still remained in the Winner part. On the sad note,

abusive ql
didn't show for their match and suffered any major penalty point which lead to their removal from the cup.
That means

Four Kings - QuakeLive
had a free walk-over in the first round of the Loser Brackets. And at the contrary of lightning, luck can strike twice on the same one and their opponent from

mowers
didn't show up in the 2nd round. These polish players were knocked out in the WB Semi final by

fnaticMSI
.
For now, two remaining games are blocking the cup. The LB round 1 match between

Excelsior!
and

k1ck eSports Club TDM
will be played on the 9th January at 22h CET and will be streamed on
Holysh1t.net
!
The second WB Semi final between

LowLandLions
and

eldvakt
is scheduled for the 14th January at 21h CET. After that, we'll finally know the name of the team who will fight against

fnaticMSI
in the winner Brackets Final.
Schedule
Winner Bracket Finals: Monday 11th January - Sunday 17th January

Lower Bracket Round 2: Monday 11th January - Sunday 17th January

Lower Bracket Round 3: Monday 18th January - Sunday 24th January

Lower Bracket Final: Monday 25th January - Sunday 31st January

Grand Final: Monday 1st February - Sunday 7th February
You can see we are already quite behind the planned schedule and we really urge the teams to schedule their matches as soon as possible!
If you have any question or problems feel free to contact us via Support Ticket or on #esl.quakelive!
Your


Admin-Team
xou
, Friday, 08/01/10 14:27

No comments yet.

Information:
info write comment not allowed