Archive ESL Europe Europe ESL Major Series Season V Enemy Territory
EMS V ET: Lanfinal Coverage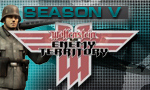 The EMS Lanfinal of Season V is up next on our schedule. It will happen at the Crossfire Intel Challenge 7, 5th March at 22 CET. The two teams who have proven worth to challenge each other in this great final are well prepared and eager to take home victory!

DH are the clear favourites of this final as they dominated the playoffs until now and only gave away a map versus

TAG in round1.

nOu way! on the other side had a very unfortunate start vs

Guarana but fought their way back and deserve the grandfinal spot!
Supply, a very solid map, was chosen by

DH and

nOu will have a hard stand against their line of defense with star player

Night.

nOu way decided on Radar. This map always ensures a thrilling round!

nOu way! have to beat

DH twice in order to safe the victory and 250€ for their team.
could not load match with id #16513800
Livestream, Shoutcast and ETTV
The match will be streamed and shoutcasted by Crossfire's very own

Stuart 'TosspoT' Saw. Watch the best shoutcaster of the game freak out on this stunning final!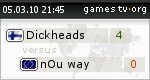 On matchtime head over to QuadV.com and tune in to this great match.
Road to Final
Team Statements

1625720
This EMS has been a nice tournament and it's great to see our team in the final! before the EMS started I was hoping to bash masculine_mans in the final.. But 5vs5 was too much for them. So now nOu proceed into the final by winning ESL
winners
in the loser bracket final.
The final will be great to watch, since nOu has some good players and I wish them good luck. but on the other hand I expect us to win it, we might lose a map. so I predict a 4-2 score for us! Now I want to thank ESL, it's admins and crossfire that made this cup and especially this lanfinal possible!

749251
I think it is going to be a tough game and either team could take the win on a good day. Anything could happen in this game, but I think they have a small edge over us, because they've been playing together with that lineup for a little while. We will give our best to bring the money home though!

abortji
I guess nOu has quite a good lineup, but they seem to be based on aim only. I think DH have more (lan) experienced players and a better combination of players. My guess is that we will take the win with 4-0. We are not aiming for a decider, nor I think it will get to one.

zMk
We are gonna rape them hard in drinking alcohol!

3099399
DH looks strong, so we have to play as good as we can and make it a close match. I would be disappointed with a 4-0 for them. Since I dont know the maps, it's really hard to predict anything. I'll try to outaim butchji, check the /scores at rounds.

lettu
Should be a hard game for us, even if they are mixed i dont see them putting anything but top notch performance with those players. They are more than capable to set up good team play even if they dont play 24/7 with each other.
Player Interviews
We've set down with

DH player

drago
for a short interview.
Welcome drago, please introduce yourself with a few words.
I am a 22 years old student from Berlin who goes by the name of Sebastian. Been playing online games as a hobby since 2001 and I enjoy long walks on the beach.
You have already played successful on several LAN events and did even better online. Is it still a special occasion for you?
Every final is a special occasion, but being experienced certainly helps you staying calm before a match. I still love playing officials as there is a certain thrill to it I seem to be addicted to!
Did you enjoy the nearly finished EMS Season V and will you signup again for Season VI?
Yes, I am pretty sure you'll see me again next season - not sure about my team though, considering that we are mostly a mix. As usual it has been a pleasure playing ESL tournaments and I even support the mid-season change to 5v5 - I think it was necessary so teams could keep practicing for this season.
Are you convinced that this match will be as easy for you to win as the community predictions say?
As mentioned above we are a mixed team so every game we play is kind of random, thus the result can always vary! We'll have a nice lineup for the LAN though, so I am convinced we'll win it somehow.
What keeps you playing Enemy Territory eventhough you already won pretty much everything?
I don't think anyone playing Enemy Territory on a higher level cares about his achievements anymore, it's more likely the game with it's unique charm that has sucked us in and won't let go! The mix of teamplay and aiming is what kept me playing this game - I simply enjoy team- and classbased shooters such as Enemy Territory or Team Fortress.
Thanks. Time for shoutouts!
Huge shoutout to everyone supporting ET (GamesTV, Crossfire, ESL, ClanBase and everyone else) - also shoutouts to dopefish/blight, Klabautermann, BF2 pros and Blight newbies.
My second interviewpartner is

nOu way! player

filuS
.
Welcome filuS, please introduce yourself with a few words.
I am 21 years old, born&raised in slovakia, currently studying informatics at college.
This is your first major ET LAN event, how do you feel about it and what do you expect?
Well, when I started playing ET I had 3 things I wanted to achieve and one of them was to play at one of those famous crossfire lans, so obviously I am excited about it. Right now I am not sure what to expect, we have unstable results in praccs and it will mainly depend on what mood we will play in, but I guess we will do just fine, anything below top8 would be upset for me. I am also curious how good I will deal with LAN conditions.
Did you enjoy the nearly finished EMS Season V and will you signup again for Season VI?
I can say I did enjoy EMS, I dont rly care/mind if its 5v5 or 6v6 and besides that i dont see anything about EMS what could possibly kill the enjoyment. And dont know yet if we will sign up for next season, this is gonna be decided after lan.
Who of DH do you expect to be most annoying to play agains in the EMS Final?
Night obviously, that guy is all the time pissing me off by his smart play, all actions what he does are annoying; nades, rifles, cops action, everything.
Are you confident to take the victory home?
I am not gonna act like I have some extra confidence, I have never been such a guy, but I do think that we are not completely without chances. Will be hard, especially when I consider fact that we just cant compare ourselves to those guys in lan experience. Rolls gonna get nerded!
What is your goal to achieve for the next seasons?
If we will sign up for next season my personal goal is gonna be as always before some tournament, to be at least as good as previous season and to do everything to win.
Thanks. Time for shoutouts!
to all my fans (if there is any ;) ) and friends
Community predictinos

Krosan
I think there's no doubt that DH will take the 250 €. Especially since the DH will all have trained (be it individually) for LAN and will be all they can be. The only thing that could go wrong is an internal clash inside DH between the Jungle Brothers and the Blights! Oooh the drama!

Clown
DH will take it easily, unless nOu have some magic lan teamplay to display!

dialer
Have played both teams and gotta say DH is far better team even though they are just a mix thats not pracing at all they will take it 4:0.

3124803
It's going to be an interesting match- it's a final after all. nOu fully deserved a spot in it hovewer I think a mix of JB and Blight can pull it off. 4:2 for DH.

3057533
I think this one will be decided in one match, 4-2 for Dickheads. They clearly got more individual talent and altough nOu's teamplay is nice, they won't be able to take this one home. I will be cheering for nOu as I rather support the teamplay teams than mixes. Gl hf to all

Bl4d3
I guess Dickheads have a very strong lineup and more experience than nOu. But I expect much from nOu cause of their online performences. So there may be some suprise :)
GamesTV.org statistics
GamesTV statistics

| | nOu way! | DH |
| --- | --- | --- |
| | 8 matches on ETTV | 6 matches on ETTV |
| | 232 most viewers at once | 302 most viewers at once |
| | 119 viewers in average | 199 viewers in average |
| | 946 viewers in total | 1196 viewers in total |
| | 2 matches shoutcasted | 3 matches shoutcasted |
What is the Crossfire Challenge?
The Crossfire Challenge is a periodic LAN event hosted by the
Crossfire.nu
community. At its seventh incarnation the sites headman

4072431
was able to win INTEL as mainsponsor. Since a few years the event is hosted at the WZZRD gaming cafe in Enschede, Netherlands. At this event ESL games like
Call of Duty 4
,
Wolfenstein: Enemy Territory
and
Quake Live
will be played.
A total of 82 teams and 32 QL players attend this event. This makes a total of more than
400 players
faceing each other in Enschede from
5th
to
7th March 2010
.
This time
15.600€
wait to be won in cash and hardware prizes and the ESL Crew will be live on site to cover the event and the EMS grandfinal!
You get a good impression of the Crossfire Challenge by the GIGA 2 documentation
Under Fire
of the GIGA 2 / ESL TV Crew around

FlyingDJ
:
We wish all players and spectators the most possible fun. Footage of the event will be available as soon as possible!
eiM
, Wednesday, 03/03/10 12:38


Information:
info write comment not allowed