Archive ESL Europe Europe ESL Major Series Season V Enemy Territory
EMS V ET: Lanfinals on CIC7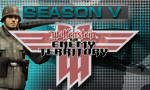 The Enemy Territory grandfinal of the ESL Major Series Season V will be held offline at the Crossfire Intel Challenge 7 in Enschede, Netherlands. The Crossfire.nu community is a league partner of the EU ET section and is the gathering point for many gamers.
We are proud to announce that the
Enemy Territory Grandfinal
of the ESL Major Series V will be hosted on a LAN event.

fintastic five
and

Team Decerto ET
will travel to Enschede and try to take the victory home. The exact date and time of the match will be published at a later point once the exact schedule is known.
We will introduce this final with a great
precoverage
containing interviews, predictions, statements staticstics and what not. Pictures and video footage of the event will be available as soon as possible once the match has been finished!
What is the Crossfire Challenge?
The Crossfire Challenge is a periodic LAN event hosted by the
Crossfire.nu
community. At its seventh incarnation the sites headman

4072431
was able to win INTEL as mainsponsor. Since a few years the event is hosted at the WZZRD gaming cafe in Enschede, Netherlands. At this event ESL games like
Call of Duty 4
,
Wolfenstein: Enemy Territory
and
Quake Live
will be played.
A total of 82 teams and 32 QL players attend this event. This makes a total of more than
400 players
faceing each other in Enschede from
5th
to
7th March 2010
.
This time
15.600€
wait to be won in cash and hardware prizes and the ESL Crew will be live on site to cover the event and the EMS grandfinal!
How to get there?
The most convenient and cost effective option to get to the WZZRD Gaming center in Enschede for international travelers is to fly into Amsterdam Schipol Airport and take the intercity train from the airport, direct to Enschede. This journey takes approximately 2 hours (although it has been known to take 3 on a bad day). The airport is connected to the main national train service, and you can find alternative routes via train here. You want to travel to Enschede D not Enschede (Enschede D is the first stop, Enschede is after). Alternatively you can travel to Bremen airport in Germany and then across the border to Holland, this route has been known to be cheaper for Scandinavian travellers. Other airports you can consider travelling to are Eindhoven & Berlin. Its street address for your GPS is WZZRD Cinestar Colosseum 60 7521 PT Enschede.
Where to stay?
Crossfire.nu listed the most reasonable hotels and accomondations around the lan site in
this post
.
TEK9 have also set up a special
CIC7 Travel Guide
. Make sure to read them if you want to visit the event.
We wish all players and spectators much fun.
eiM
, Tuesday, 23/02/10 10:39


Information:
info write comment not allowed