Archive ESL Europe Europe ESL Major Series Season V Enemy Territory
EMS V ET: Loserbracket Final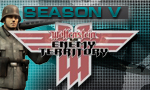 Another highly interesting match is upcoming in the ET EMS V. nOu way! face ESL Winners in the loserbracket final. Both teams are already ensured to win atleast 100€ but ofcourse both are eager to reach more!

ESL Winners dropped from the winnerbracket final after losing to

Dickheads, who are already waiting in the grandfinal.

nOu way! dropped into the loser bracket after their very first playoff match vs

Guarana but collected themselves again and are back stronger than ever. This will be a very tight match for sure and many will again gather to see these teams battle it out on ETTV.
could not load match with id #16513798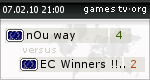 Team statements

filuS
I am pretty sure it will be very interesting match eventhought that eslw have some troubles with getting enough players. For me this match is just bonus, I already reached my personal goal for this season of EMS - to get into top3 again, so pressure will be off. But I will do my best to get into grand final. May the force be with us!
Community expectations

4498862
Well, looking at the lineups both are pretty strong, but as far as I know nOu is pracing hard for Crossfire INTEL Challenge 7 and ECWinnerz is not playing anymore apart from cup matches, so should be 4-0 for nOu pretty easily.

3276321
It will be a close game. nOu has had good results lately & I think with their teamplay & teamwork they could win this game with 4-2. allthough it will depend if the ironfist will play or not.

2368897
Well nou are a very decent team and are one of the more active teams praccing for lan. However ESLW have a lineup on paper that is very strong. I will go for a 4-2 win for nOu due to activity.

3124803
That's one of those games where you can't say that your e-money is safe. On the one hand we've got EC Winners, with 2nd place of CB EC XX, but on the other hand, we've got a team who's playing more actively. For me nOu way is one of the favourites to get a top spot @ CIC7. The game can go both ways but I'd say 4:2 for nOu.
eiM
, Saturday, 06/02/10 12:36

No comments yet.

Information:
info write comment not allowed