Archive ESL Europe Europe ESL Major Series Season V Enemy Territory
EMS V ET: Winnerbracket Final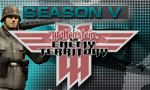 The winnerbracket final is up next in the Enemy Territory section of the EMS V Season. Only a few matches are left until we know which teams split up the 500 € prizemoney and can with full pride say to be the very best of Enemy Territory.
Both teams consist of the best players our lovely game has to offer. The "Player of the Year 2009"

749251
and even his follow up

olBaa
can be seen in these rosters. Neither

ANIMELINUXNERDCLUB
nor

fintastic five
have lost a single game in the whole ESL EMS V season yet. This time one must lose. The ultimate challenge is ready to begin. Read on for alot of statements, expectations, inverviews and statistics.
could not load match with id #16513785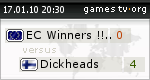 Team statements

dialer
We are looking forward to that game to see how much we are worth in 5v5 and we will try to do out best to make sure that we will get a spot in the grand final.

flyxx
To be honest, I dont know what should I expect from dickheads. They have awesome aimers and spamers, so it'll be hard challenge for us.

drago
We are excited to finally face ESL Winners and look forward to a classy old duel, British gentlemen style. Bring your hats and pimp canes and don't forget teatime at 2pm. Good luck and have fun to everyone playing and watching.

749251
I think it is going to be a pretty weird game and either team could take the win 4-0 on a good day. Both sides are pretty much just mixteams and anything could happen in this game, but I think they have a small edge over us, because they've atleast been playing together for a little while.
Community expectations

746577
This EMS match will become one of the closest games 'cause ten of the upper top ET players will fight against each other. I really can`t predict an exact result – it will end 4:2 – but due to the equality of skill it can go either ways. I guess you will not accept this undefined prediction therefore I will say that Dickheads will win with 4:2 if some of their strong finnish poweraimers will play.

Krosan
Depending on the lineups of these mixes I'd say this match could go either way. If both teams deploy their best lineup possible, I think ESLW will take it, since they're planning on going to LAN too. Although with Night playing for dickheads, anything can happen.

filuS
Its hard to predict matches like this, eslw seems to be in good shape and after win against masculine mans I would bet on them. But dickheads can surprise, they have impressive firepower, its 5on5 and one cant be sure what night will do next time. My prediction: 4-2 for eslw (if ironfist will play).

1958214
Should be a nice match to watch between 2 teams consisting of absolute top-players. I predict ESL Winners to do what their name stands for but it will be close, 4-2 ESL winners.
Player Interviews

1866158
After that you disappointed and did not live up with your name in the Eurocup will you do it in the ESL EMS now?
I want to tell you yes we will live up to our name, although after not one but TWO 5on5 pracs I still don't think we're adapting very well. Obviously pracing the format will help but with January exams it isn't looking hopeful for our last ESL games. I should really be working infact and not answering these questions! Seriously though I want to win EMS, because somebody has to pay my lan flights and I'd rather it not be me.
Which player do you expect to play a keyrole in todays match. Who will deliver and who will fail?
I don't know who will play and I didn't even know our opponents team existed so I wouldn't trust any predictions I have here. [flag=de] sNOOp is a machine and will no doubt deliver. The [flag=pl] Polaks however are garuanteed to teamkill me into oblivion as usual with a plethora of terrible riflenades and misthrown pineapples.
Are you satisfied with your very own and your teams' performence in the running Major Series tournament?
We haven't lost yet which I guess is good. Rolling [flag=fi] nerds was therapeutic after EC loss although I personally got milk all over my lips and made a mess that game. I might be satisfied but much like booboo, I am definitely not happy.
Did you like this ESL EMS season and are you already looking forward to another season, if there is one? Will you play?
S'alright, though organisational stuff isn't my job. Coverage is good, atleast it does a better job of informing me about upcoming matches than wiaderko does. The switch to 5on5 is horrible though, not just because 5on5 is horrible, but because it happened mid-season. I just don't understand the motivation. I'll probably be around for next season in some capacity but ET activity always does take a hit post-LAN so I don't know who with.
The Crossfire Intel Challenge 7 is approaching. Are you coming and if yes with which team? What is your goal to achieve?
I don't want to commit but the outlook is: most probably. Can't talk about the team yet, sorry. Top 3 is what I expect, I only hope without the silly SNB mistakes.

1625720
Your team showed an impressive performence in the running EMS season. Are you eager to win this match?
Yes, we are very hungry for the win. I think this is the first really good team that we meet in the cup, so will be a nice game.
Which player do you expect to play a keyrole in todays match. Who will deliver and who will fail?
I think all of our players fit the team pretty well, but as it comes to dmg I think olBaa will deliver; I will fail as usual!
Are you satisfied with your very own and your teams' performence in the running Major Series tournament?
Well yes and no. I am surprised by the teamwork we have in dickheads, eventhough we are a mix team. We make fast attacks in the games usually, but when it comes to the defense side, then we have a lot to improve.
Did you like this ESL EMS season and are you already looking forward to another season, if there is one? Will you play?
Yes ESL EMS is very nice because I didn't see too many forfeits and it's always nice to have prizes in tournaments. Next time you could make the qualifiers for the tournament run faster and direct invite the highest teams. It would be very nice to have another ESL EMS. Will definitely play it if there is one, dunno with who, maybe with dickheads again C==3:D.
GamesTV.org statistics
GamesTV statistics

| | ESL Winners | Dickheads |
| --- | --- | --- |
| | 7 matches on ETTV | 5 matches on ETTV |
| | 253 most viewers at once | 242 most viewers at once |
| | 182 viewers in average | 178 viewers in average |
| | 1274 viewers in total | 890 viewers in total |
| | 4 matches shoutcasted | 2 matches shoutcasted |
This will for sure become one of the most stunning games of early 2010 and noone should miss this event. Make sure to tune in at matchtime!
eiM
, Saturday, 16/01/10 07:10


Information:
info write comment not allowed