ESL Major Series Season IV *now with FIFA 1on1*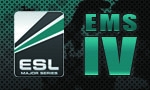 While players and teams from all over Europe are still battling each other in the third season of the ESL Major Series we proud to be able to announce the next season! Over 150 teams and 1,000 players took part in eleven tournaments of the last ESL Major Series. We want to expand this popular event even more! See inside to find out about ESL Major Series Season IV.
The fourth season of the
ESL Major Series
will host 14 games building on the success of the previous third seasons. The qualification for season IV will start in March, the ESL Major Series IV will start in April and features a prize money total of
€18.000!
Team disciplines
Counter-Strike: Source (5on5): €3.000
Call of Duty 4 (5on5): €3.000
Counter-Strike Female (5on5): €1.500
DotA (5on5): €1.500
Dawn of War 2 (Clanwar): €1.000
FIFA 09 (5on5): €1.750
Team Fortress 2 (6on6): €1.500
America's Army (4on4): €500
Day of Defeat: Source (6on6): €500
Enemy's Territory (6on6): €500
1on1 disciplines
Quake 3: €750
StarCraft: Brood War: €750
FIFA 09: €750
PES 2009: €500
Trackmania: €500
Details for how to qualify for Season IV in all games will come in the next couple of weeks!
ESL Major Series is sponsored by
gamed!de
, which offers highly scalable and reliable managed hosting solutions. Redundant connection with highest speed and minimal packet loss is guaranteed.
otacon
, Wednesday, 04/03/09 11:55