Archive ESL Europe Europe Dawn of War II: Retribution
1on1 Beta Opening Cup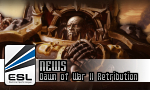 Since the beta is now more widely accessible, the time has come for a respective ESL cup, that we are going to host on this Sunday. You do not participate in the beta yet? Don't worry, we explain how you can get access.
Beta Facts
To cut a long story short here the most important facts about the Beta:
Dawn of War II: Retribution Beta Facts
Timeframe
Features

Six multiplayer races - including the new Imperial Guard faction
News units
New multiplayer maps
Steamworks (complete with new matchmaking and networking features)
Participation
In order to get access to the beta you just have to follow the steps described on the
official Dawn of War II page
.
1on1 Beta Opening Cup Details
Here the details for the cup:
1on1 Beta Opening Cup
Requirements

Gameaccount: entered SteamID DoW II: R (An easy way to get your SteamID is to use this page - just enter your ID without the "STEAM_" then.)
Rules: rules have been read & accepted


Information

Cup Mode: Single Elimination
Playerslots: 32
Game Mode: 1v1
Match Mode: bo3
Map Selection: Each player picks a homemap. If the score is 1:1 after both maps have been played the decider map gets played.
Start Date: Sunday, 13/02/11 16:00 CET
Time/Round: 1.25 hours
Checkin: From 30 minutes until 20 minutes before the cup starts

Mappool

Green Tooth Jungle
Siwal Frontier
Green Tooth Gorge
Calderis Refinery
Leviathan Hive
Outer Reaches
Quests Heresy
Ice Station Obelis
Judgement of Carrion

Help & Support
Signup
Good luck and have fun!


Join our Steam Group!
Your


Admin Team
Imbaer
, Friday, 11/02/11 05:53


Information:
info write comment not allowed