Archive ESL Europe Europe Dota 2
5on5 Autumn League Announcement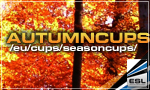 The Dota2 5on5 Autumn League 2013 is comming !! You will have again the chance to win some premiumcodes or even the "Seasoncup (Autumn) Award". What are you waiting for - Sign up!
The ESL Staff want to announce the DotA 2 5on5 Autumn League 2013. This Seasonal Tournament will consist of 2 different phases, the first one will be the qualification, which will be in this case a one day cup. This cup will only be played until the quarter finals. Every team, which will reach the quarter finals, is qualified for the second phase. The second phase will be a group stage with a total amount of 8 teams. In this phase every team will have to play a bo1 against all 7 opponents.


Date: Start 29th October


Structure:

1° Phase: One Day Cup - bo1


29th October



This cup will be played only until the quarter finals.


The teams, which will reach the quarter finals (8 Teams) are qualifed for the second phase.


2° Phase: Groupstage (8 Teams) (bo1)


30th October - 15th November



Settings: 1 groups x 8 teams


In total every team has to play 7 matches - one against every opponent.



If there are 2 teams with the same points, the winner is who won the direct match.




Questions? Support ticket


| | |
| --- | --- |
| 1st Place | |
| 2nd Place | 2 Months remium |
| 3rd Place | 1 Month remium |

Premium prizes are only given out, if there are at least 8 teams participating.


Season Award is only given out, if there are at least 16 teams participating.
Why Premium ?
No advertisement
Active support of league
No waiting time at Gather
Awards
Start Gather with ESL Wire Anti-Cheat
Access to special leagues (f.e. Amateur Series)
Support and Questions
Don't hesitate and feel free to leave feedback or questions via our Support System, Forum, the comments or Steam Group, which will be also used during the cup. Therefore everyone is gladly invited to join this group.


Become a Fan of ESL Dota 2 and get all News on Facebook
// Your

Admin Team


Information:
info write comment not allowed