Archive ESL Europe Europe Dota 2
RaidCall EMS One: Brackets and spectator info for Katowice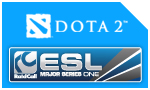 We are proud to announce the venue for our final event that will take place on April 20th and 21st: The Spring 2013 Finals will be held in the conference area of the angelo Hotel in Katowice, Poland. Teams, press and spectators will find themselves in a friendly and comfortable atmosphere to experience the tournament to its fullest while being as close to Europe's best players as possible.
After the group phase has concluded a week ago, here's a final overview of the 8 teams that successfully took part in the cups leading up the group stage and made it through. These eight teams will battle it out for $35,000 on April 20th and 21st.
RaidCall EMS One DOTA2 Finals in Katowice
| Group A | Group B | | Prize Pot | |
| --- | --- | --- | --- | --- |
| mousesports | Fnatic EU | | 1st Place | $12,000 |
| Natus Vincere | Absolute Legends | | 2nd Place | $7,000 |
| | | | 3rd Place | $4,000 |
| Group C | Group D | | 4th Place | $4,000 |
| dd.dota | No Tidehunter | | 5-8th Place | $2,000 |
| Virtus.pro | RoX.KIS | | Total | $35,000 |
Tournament Bracket
Today, we conducted the official drawing of the quarter final matches live on ESL TV. The first-placed teams of each group were matched with the second-placed ones, and teams from the same group could not meet in the quarter final either. Here is the result:

RoX.KIS vs. Quantic Gaming Dota2


Virtus.pro dota2 vs. Flip.Sid3 Tactics


mousesports vs. Alliance


NAV vs. Fnatic.DotaEU

Tournament Bracket
Schedule
Sat 20/04, 11:00 CEST:

RoX.KIS
vs.
Quantic Gaming Dota2

Sat 20/04, 14:00 CEST:

Virtus.pro dota2
vs.
Flip.Sid3 Tactics

Sat 20/04, 17:00 CEST:

mousesports
vs.
Alliance

Sat 20/04, 20:00 CEST:

NAV
vs.
Fnatic.DotaEU

Sun 21/04, 11:00 CEST: Semi Final #1
Sun 21/04, 14:00 CEST: Semi Final #2
Sun 21/04, 17:15 CEST: Grand Final
Tickets
On the 20th and 21st of April you have the chance to be on the spot when the eight qualified teams face off to determine the very first RaidCall EMS One champion. Cheer for your favourite team and see all the matches live in our venue in Katowice! The seats are limited, so don't hesitate for too long.
Please understand that this event does not feature an open entrance: You may only enter the venue if you are in posession of a spectator pass. There will be no ticket sale on-site.


Information:
info write comment not allowed