Archive ESL Europe Europe Day of Defeat: Source
Nightcup #22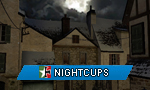 Because our last nightcups were well-stocked we just decided to give you each week two possibilities for playing. This time our next nightcup, the 22nd edition, will be played on upcoming Wednesday. We hope, that you stay active and play as much nightcups as you can. If you are not happy about our nightcups, or if you have something that you would like to change, we please you to let us know about it.
Every map will be played 2x15 minutes, please contact your next opponent as soon as you know him to avoid large delays.
Information: Nightcup #22
Signup

23/06/13
15:30 CET
Signup open

Signup

26/06/13
19:45 CET
Signup closed

Tournament

26/06/13
20:00 CET
Round of 16

dod_anzio

26/06/13
20:45 CET
Round of 8

dod_vallente_rc3

26/06/13
21:30 CET
semifinal

dod_harrington

26/06/13
22:15 CET
final

dod_santos_b3
Winners: Nightcup #20








You can find this winners and the winners from all previous cups in our Hall of Fame.


Seedings
As a small reminder, here is the the ranking for the seeding. The first four places are seeded, the other teams get random positions.



No comments yet.

Information:
info write comment not allowed