Archive ESL Europe Europe Day of Defeat: Source
Nightcup #19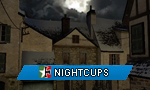 Wintercup is ending soon, only two weeks left, three teams battling for the crown. This means many teams are out already and got lots of free time, so we decided to make another nightcup! Nightcup #19 will be on Thursday, 14.03.2013, starting at 20:00 CET. The singup is open now, so hurry up and take on of the 16 slots!
Every map will be played 2x15 minutes, please contact your next opponent as soon as you know him to avoid large delays.
Information: Nightcup #19
Signup

11/03/13
13:00 CET
Signup open

Signup

14/03/13
19:45 CET
Signup closed

Tournament

14/03/13
20:00 CET
Round of 16

dod_argentan

14/03/13
20:45 CET
Round of 8

dod_harrington

14/03/13
21:30 CET
semifinal

dod_anzio

14/03/13
22:15 CET
final

dod_salerno
Winners: Nightcup #18








You can find this winners and the winners from all previous cups in our Hall of Fame.


Seedings
As a small reminder, here is the the ranking for the seeding. The first four places are seeded, the other teams get random positions.



No comments yet.

Information:
info write comment not allowed