Archive ESL Europe Europe Day of Defeat
DoD Nations Championship 2008 Winners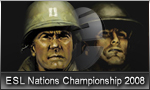 The year inclines to the end so did our nations championship too. Just the day before yesterday was the last match played, by poland and germany, in this years nation championship of the ESL. We could induce 15 Teams to signup for the first groupstage. Just to mention some...

Denmark - DoD

Team Finland

Team Sweden 1.3 '08

France.DoD

Switzerland dod1.3

Germany DoD:S
All teams stated above were favored to win this championship. But it all went completely different. In the first group, the three big teams of

Switzerland,

Danemark and

Finland become first, second and third, with all the same amount of points and just different DeCL-Points. No suprise at all til here, maybe that Finland isnt second. Unfortunately

Sweden just signed up, but didnt took part in the cup, since some internal Problems. In the second group, we got two favourites teams, with

Germany and

France. One of these two could fulfil the expectations. Germany became first and

Spain third right behind the

Polish team. France just took the 5th place.
---
Playofftime
Germany and Switzerland got a bye, cause they were first in their group. So we got Finland versus Spain and Poland versus Dankemark.
could not load match with id #11508188
could not load match with id #11508189
Spain beat Finland pretty conclusive as Poland did the same with Danemark. After this we were going into the semifinals.
could not load match with id #11508191
could not load match with id #11508192
Game for third Place
could not load match with id #11508195
Grand final
could not load match with id #11508193
Poland managed to beat Germany in the Grandfinal and Switzerland got a walkover, since Spain didnt show up. Congrats to Poland, Germany and Switzerland.
| | | |
| --- | --- | --- |
| | Day of Defeat Nations Championship | |
| | | |
| | | |
Groupstagerankings
&
Cuptree
Thanks to all participating nations!
Your ESL


Day of Defeat Admin Team
K0rN
, Tuesday, 23/12/08 17:33


Information:
info write comment not allowed