Archive ESL Europe Europe Development
Quick Tourneys, a new gaming experience!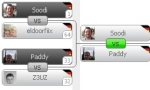 In the few past months we worked on a new system, which will make playing and organising tournaments easier than ever before. Today we are releasing the new Quick Tourneys system and here we will explain to you the main features. If you like playing cups, you will love playing Quick Tourneys!
Quick Tourneys!
Like the name implies, we want to provide a quick and easy tourney system, for cups that last around 2 hours. The system was built from scratch and does not use anything from the old system.
Easy, intuitive way to sign up to a tourney
Live updates from signup to bracket
Simple and straightforward fixture management
Uncomplicated creating and management of tourneys
Play without any "effort"
We focused on the essentials, giving players more control and removed a lot of trouble. You can enter who won directly on the bracket page, without the complication of finding the match page and entering the result. Just one click is needed to report who won and immediately see the effect to the bracket.
Current scope and future
Currently we are focused on 1on1 single elimination tournaments up to 32 players. Later we will expand the system so that we can completely replace the old cup system.
Quick Tourneys already integrated into the ESL system, so that you can enjoy XP and Awards for playing and winning tourney matches.
Quick Tourneys: FAQ
As the system is so easy to use, we are planning to in the near future release it for all users to be able to host their own Quick Tourneys with. We will explain more in a later news. In the mean time, think about what tournaments you would like to run!
pimpen
, Friday, 19/11/10 07:46


Information:
info write comment not allowed