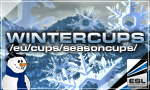 38
Here we go! After a long time without activity here on ESL, let's have some fun and sign in the first cup of the year! As usual, there are a nice award and some Premium keys to win.
26/12/12

CSPromod BETA 1.10 is out now!
30
25/03/11

Admins wanted!
7
03/02/11

CSPromod 1.05 has arrived!
4
04/01/11

Admins wanted!
16

More News
The game is no longer available in Europe. If you want to play the game in the ESL, please open a topic
here
.